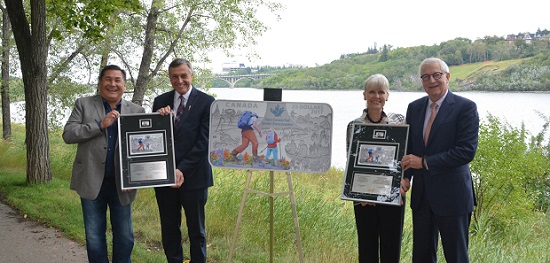 [bsa_pro_ad_space id=4]
August 31, 2017 – The Royal Canadian Mint has launched a new rectangular silver coin to celebrate the 25th anniversary of the 24,000 kilometre-long Great Trail (formerly known as the Trans Canada Trail), which will soon connect Canada from its Atlantic, Pacific and Arctic coasts. This coin was celebrated on August 15, 2017, at an event held beside the Meewasin Trail section, which crosses the city of Saskatoon as it follows the shore of the South Saskatchewan River.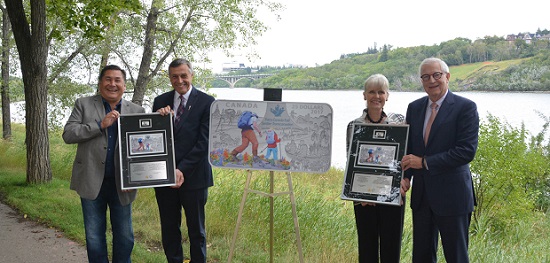 Celebration of the newly released coin on the Great Trail's 25th anniversary.
"As an organization which prides itself on connecting Canadians through coins, the Mint is delighted to issue a coin celebrating the bringing together of our country, especially on its 150th anniversary, through The Great Trail initiative," said Sandra Hanington, President and CEO of the Royal Canadian Mint. "The Mint is proud to share the story of The Great Trail on a spectacular coin which celebrates the endless ways Canada can be enjoyed thanks to all the passionate Canadians who took on the bold challenge of building The Great Trail."
"It is such an honour for Trans Canada Trail to have a coin commemorating Canada's Great Trail," said Deborah Apps, President and CEO of Trans Canada Trail. "This is truly a celebration of our volunteers and donors who have worked tirelessly to connect the Trail across Canada, making this 25-year dream a reality."
Canada / 25 Dollars / Silver .9999 / 47.35g / 49.8 x 28.6mm / Designer: Steve Hepburn (reverse) and Susanna Blunt (obverse) / Mintage: 5500.
Canadian artist Steve Hepburn designed this 1.5 oz., 99.99% pure silver coin with a panoramic rectangular shape. The focal point of the coin features a pair of hikers, selectively enhanced with colour, setting out to explore The Great Trail of Canada. Above them is the logo of the Trans Canada Trail in full colour, surrounded by a series of engraved vignettes depicting the many ways the Trail's diverse landscapes can be enjoyed year-round. These include: agricultural lands nestled in foothills; cycling along a rural trail; canoeing through wetlands; horseback riding; backpacking across rocky terrain; as well as snowmobiling and cross-country skiing.
Further information on this release can be obtained here.
To go to the homepage of the Royal Canadian Mint, please click here.
And on YouTube you can watch a short movie on the Great Trail as the World's Longest Hiking Trail.