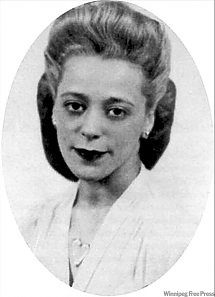 [bsa_pro_ad_space id=4]
by Annika Backe
translated by Christina Schlögl
April 13, 2017 – Canada's Minister of Finance, Bill Morneau has made a decision. Starting in 2018, the African American Viola Desmond will be on the 10-dollar-note of his country. This civil rights activist, deceased in 1965, asserted herself against hundreds of other submissions in a 2016 contest, held by the Bank of Canada on occasion of the International Women's Day. She will thus be the first woman, next to the Queen, who will be on a Canadian banknote.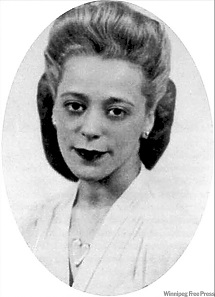 Viola Desmond (1914-1965).
"Whites only"
Viola Desmond went down in history when she sat in a seat that was reserved for whites at a cinema in Halifax on November 8, 1946 – nine years before Rosa Parks refused to give up her seat on the bus for a white person. When she did not want to give way, she was arrested and kept in prison for one night.
As a consequence, the 32-year-old owner of the Desmond School of Beauty Culture was sued for tax evasion. The accusation: Seeing as she would have had to take a seat in the upper section of the auditorium, she did not pay the 1 cent entertainment tax that arose from the difference in price. The trial, in which she had to defend herself without legal representation, left her with a fine of 26 dollars.
Late recognition
Viola Desmond did not live to see her official rehabilitation. After long and futile attempts to gain recognition for the injustice she suffered, she died on February 7, 1965 in New York. It was only in 2010 that the incident was appreciated as racial discrimination. The fact that she has become a widely known persona of recent Canadian history mostly goes back to her sister Wanda Robson's commitment.
Role model and memory
In his declaration, Bill Morneau emphasised that Viola Desmond represents the idea that moment of courage and dignity can change everyone's lives forever. Viola's 89-year-old sister seemed deeply moved by the speech: "I really know if Viola were here how she would feel. She would be so very proud. She inspires us today as she inspired people years ago."
You can find out more about Viola Desmond in the Canadian Encyclopedia.
There is a portrait of her on occasion of the new banknote in this YouTube-film.
Many details on the Viola Desmond-trial can be read in The Dalhousie Law Journal.
You can find the Website of the Bank of Canada here.
And there is a report on slave liberator Harriet Tubman on the new American 20-dollar-bill in CoinsWeekly.