[bsa_pro_ad_space id=4]
November 27, 2014 – On Oct. 21, 2014, rare coin experts from Kagin's Inc. announced the discovery of one of the largest natural California gold nuggets ever seen. The treasure was found by a California man who was prospecting for gold on public land in Butte County, California in July of this year. The nugget, which weighs over 70-ounces, is estimated to be worth somewhere between $350,000 and $450,000.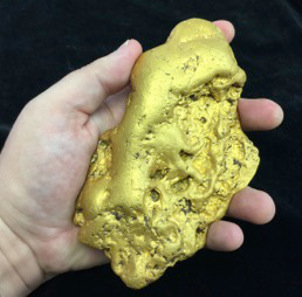 "Large California nuggets are incredibly rare and valuable," noted Donald Kagin Ph.D., president of Kagin's Inc. of Tiburon, California, "in 2010, a man contacted us claiming to have discovered a 98-ounce nugget on his property also in northern California. After auctioning the piece for $460,000, we were made aware that it was actually found in Australia where such giant nuggets are more common. We immediately refunded the buyer, paid his agent a commission, resold the piece as an Australian specimen to the second highest bidder for a lesser amount, retained our commission and paid the original consignor (who wanted to use the nugget sale to sell his property) the balance. Everyone was satisfied with the outcome, and we are excited about another opportunity to offer such an historically important gold nugget."
The Butte Nugget, as it is being called, is among the largest known California nuggets, and may be the biggest example from the Golden State in private hands.
After unearthing the treasure, the prospector contacted Kagin's senior numismatist, David McCarthy, who evaluated the nugget and confirmed its provenance.
"Fortunately, the discoverer of the Butte Nugget photographed its excavation step by step. I was able to use his pictures to positively identify the location where the gold was discovered," said McCarthy. "Nuggets like this don't come along every day – I really didn't believe that I would see a California nugget of this size unearthed during my lifetime."
Foxnews has published an article on this huge nugget.
If you want to know more about the California Gold Rush, we can offer an interesting article:
Gold rush in California Part I
Gold rush in California Part II
Gold rush in California Part III
We also have information about the Gold Rush in Alaska.
Click here if you want to visit Kagin's Inc. online.