[bsa_pro_ad_space id=4]
Busy June for Cayón – Four Auctions and Extremely Good Results
Cayón Numismática had an extremely busy June with four Auctions. For the auction house, it was worth it. The activity has been terrific with many new clients, strong bids and extremely good results. Here are some highligts from these auctions.

Extraordinary Auction I (June 19th) had a lot of expectation. Under the hammer came the most important Spanish medieval collection ever auctioned. Finally, almost all of the sale was combined in a lot (lot 1A) for a starting price of 300,000 euros. There were several offers, and finally it was sold for 450,000 euros (buyer's fee included).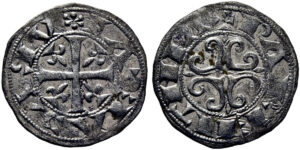 The rest of the lots not included in the large lot were also sold to strong bids. Nine of them were sold, but the Spanish government acquired them for public museums. The other lot bought by a collector was sold for 21,000 euros (lot 33, dinero, San Antolín de Palencia, doña Urraca). All lots were sold, 100%.
Extraordinary Auction II (June 20th) brought a lot of new clients, most of them focusing on the gold 8 escudos and Roman aureii. The rare 8 escudos 1632 Segovia was sold for 66,000 euros, a terrific result – according to Cayón a world record. The 8 escudos 1723 jumped up from the 6,000 euro starting price and was sold for 40,800 euros; the 320 reales Napoleon 1810 sold for 29,400 euros, and the cincuentin 50 reales 1651 was sold for 15,950 euros. Here some more impressive results of ancient coins: The Berenice II hexadrachm was sold for 20,400 euros, and a nice Marcus Aurelius aureus sold for 6,900 euros. More than 97% of the lots were sold.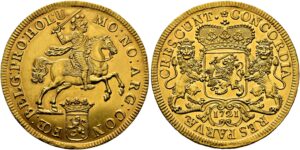 E-auction special gold coins (June 23rd) had also a lot of expectation and attracted new clients. There were some lots that were rare, and for sure they were the highlights. All lots were sold (100%): the Holland 10 ducats 1721 that had a starting price of 3,500 was sold for 60,880 euros, the double excellente Catholic Kings with the Azores countermark was sold for 14,278 euros, and a rare UK set 1911 was sold for 15,340 euros.
Eauction special papermoney (June 25th) offered a big group of 19th century issues and also hundreds of issues from the 20th century (more than 850 lots), including exceptional numbers, consecutives and specimens. More than 90% of lots sold. Among the highlights: the 500 pesetas 1884 was sold for 12,980 euros, the pair of 5 and 10 pesetas 1936 numbers 000008 were sold for 8,968 euros, the other pair of them – numbers 000007 – sold for 6,254 euros, and the block of 3 specimens of 50 pesetas 1884 was sold for 5,664 euros.
You can browse through all results of all auctions on the Cayón Numismática website.