[bsa_pro_ad_space id=4]
Broad Range of World Coins at Stephen Album
Stephen Album Rare Coins will hold its Auction 42 on 20th-23rd January 2022 at its offices in Santa Rosa, California. The Auction is made up of 3,200 lots of Ancient, Islamic, Chinese, Indian, and General World Coins.
Featured in the sale is the Joe Sedillot Collection (Part I) which includes a wide array of type coins from numerous countries. A large proportion of the coins in the collection are in choice condition and were selected for encapsulation in PCGS holders. Additional selections from the collection will be offered in subsequent auctions in Spring 2022. Also featured in this sale is The Charles Opitz Collection of Primitive Money, Part III.
One notable change the firm has made beginning with this auction is that group/bulk lots are now consolidated at the end of the sale for more convenient locating (see lots 2752 to 3200).
Select highlights will be on display at the New York International Numismatic Convention, 13th-16th January 2022. Some highlights from the sale: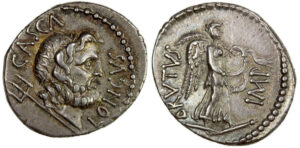 Lot 55: Ancient. Roman Imperatorial Period. Brutus. AR denarius, travelling military mint, late summer-autumn 42 BC. Moneyer P. Servilius Casca Longus, struck in western Asia Minor or northern Greece. Laureate bust of Neptune to right, trident below, CASCA LONGVS // victory advancing right on broken scepter, holding palm frond over shoulder and broken diadem bound with fillet with both hands, BRVTVS IMP. superb strike, attractive toning with golden highlights, Extremely Fine. Estimate: $3,000-$4,000.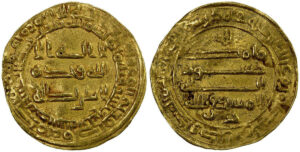 Lot 237: Islamic. Abbasid of Yemen. al-Mustakfi (944-ca. 950). AV reduced weight dinar 'Adan, AH334. standard Abbasid legends, without reference to the "amiri" denomination; known only from a small group posted on Zeno, where it is assigned to the Ma'nid dynasty, Very Fine-Extremely Fine. Of the highest rarity. Estimate: $5,000-$6,000.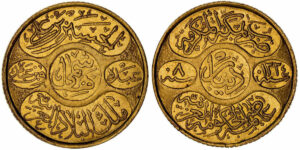 Lot 1110: World. Hejaz. al-Husayn b. 'Ali (1916-1924). AV dinar hashimi, Makka al-Mukarrama (Mecca), AH1334 year 8. "King of Arab Lands" type. NGC graded MS62. Of the highest rarity. Only four pieces bearing the legend "Malik al-Bilad al 'Arabiya" ("King of the Lands of Arabia") are known to exist today. It is said that this regal legend claiming sovereignty over the Lands of Arabia outraged other Arab leaders, in particular King 'Abd al-'Aziz, then ruler of the Nejd. In order to placate his critics, al-Husayn b. 'Ali ordered that the offending legend be amended to "The Renaissance of the Lands of Arabia", which can be seen on the more commonly encountered types (Lots 1108 and 1109). Estimate: $150,000-$250,000.
Lot 1721: Ethnographic. Solomon Islands. Santa Cruz Islands, feather coil money (3519g), 19th to early 20th century. Ca. 8.17m long and 5cm wide, rolled into a 5-layered double-row coil ca. 35cm in diameter, fully intact and covered in feathers, decorated with strings of coix seed money and shells. Extremely fine. Of the highest rarity. Ex Charles Opitz Collection. Tevau (teau) feather coil money is composed of some 50,000 to 60,000 red feathers of the scarlet honeyeater bird (Myzomela cardinalis). It was used as a currency in bridal transactions and for other large expenditures on the Islands of Santa Cruz in eastern Melanesia. Depending on the condition and the visibility of the red feathers, the coils were valued differently. A first-grade coil had to be brilliantly red. Until the mid-20th century, the bride price was ten coils of different grades. For that, some families ran up debts for the rest of their lives. Only hereditary currency binders were authorized to make feather coils. A full coil could take them 500 to 600 man-hours, making it prohibitively expensive. It ceased to be used as money in the late 1970s but continues to serve as indicators of value and objects of prestige to this day. Estimate: $4,000-$6,000.
SARC Chief Operations Officer Mike Barry commented: "Everyone thinks of us as the company that sells Islamic, Indian, Chinese and other Asian coins. We have been building our general world coin offerings over the years, and those efforts have culminated in this sale which features a higher caliber of world coins and broader range of types in choice condition than we have ever offered before. It should stand out as one of our best sales to date and bidders will take notice that we sell rare coins across all categories and that these lots are not to be overlooked"
All lots of the auction can be viewed in the online catalog.
The firm is now taking consignments for future premier and internet auctions. More information can be found on the website of Steve Album.