[bsa_pro_ad_space id=4]
February 9, 2017 – After the successful sell-out of the 2013 issue of the Blue Whale, Pobjoy Mint announces the release of a new 2017 Blue Titanium coin on behalf of the South Georgia and The Sandwich Islands Government which features the ever so popular Blue Whale once more.
Great Britain / 2 GBP / Blue Titanium / 10g / 36.10mm / Mintage: 7,500.
The design on the coin shows an adult Blue Whale with her calf swimming in the sea surrounded by small fish just above the sea bed. The adult whale's tail fin appears above the water line in front of the rising sun. The obverse of the coin features an effigy of Her Majesty Queen Elizabeth II exclusively by Pobjoy Mint.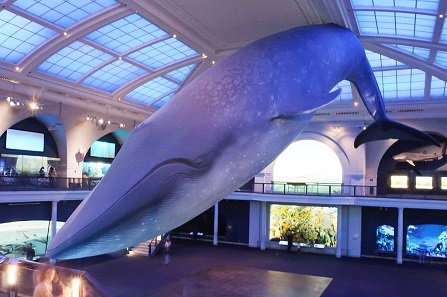 The Exhibition Lab's blue whale at the American Museum of Natural History. Photo: InSapphoWeTrust / CC BY-SA 2.0
The blue whale
Blue whales are the largest animals ever known to have lived on Earth. These magnificent marine mammals rule the oceans at up to 100 feet long and upwards of 200 tons. Their tongues alone can weigh as much as an elephant. Their hearts, as much as an automobile. They have a broad, flat head and a long, tapered body that ends in wide, triangular flukes.
They reach these mind-boggling dimensions on a diet composed nearly exclusively of tiny shrimplike animals called krill. During certain times of the year, a single adult blue whale consumes about 4 tons of krill a day.
Their colour is true blue underwater, but on the surface their colouring is more a mottled blue-gray. Their underbellies take on a yellowish hue from the millions of microorganisms that take up residence in their skin.
Blue whales live in all the world's oceans occasionally swimming in small groups but usually alone or in pairs. They often spend summers feeding in polar waters and undertake lengthy migrations towards the Equator as winter arrives.
The coin's material and qualities
Due to the difficulty of striking Titanium coins and the fact that Titanium reacts differently with every strike, each blue whale coin is technically different from all others. There is also a lined effect that is present on the coins which is unique to this metal. The coin has also been produced in Uncirculated Cupro Nickel and Proof Sterling Silver.
Find out more about this and other coins on the Pobjoy Mint website.
If you want to listen to sounds of the blue whale, please click here.
Many facts about blue whales can be found on the website of the Vancouver Beaty Biodiversity Museum.
And to get up close to these marine giants, please access the website of National Geographic.