[bsa_pro_ad_space id=4]
November 9, 2017 – There is no known culture in the world or in history without religious beliefs. What sustains this worldwide phenomenon? The answer to this question is usually set out in terms of what people believe. By contrast, this exhibition explores the practice and expression of religious beliefs in the lives of individuals and communities around the world and through time.
It will also touch on the benefits and risks of these behaviours in terms of co-existence and conflict in societies such as 17th-18th-century Japan, China and the Soviet Union, as well as modern Europe.
Ofuda: Amulet made of cloth for the protection of mother and child, 2000, Japan. Photo: © Trustees of the British Museum.
Belief is a key aspect of human behaviour and the exhibition will note not only the mystical and sociological aspects of this, but also the innate neurological and psychological triggers. The similarities in the recurrent practices exhibited, despite great variation in what is believed, leads to the question of whether our species might be better known as Homo religiosus rather than Homo sapiens. The exhibition will explore behaviours inherent in everything from modern urban ideas of wellness and mindfulness to pilgrimage and prayer.
The exhibition about is part of the fourth collaborative project between the British Museum, the BBC and Penguin Books. It builds on a Radio 4 series of 30 daily programmes over six weeks presented by former Director of the British Museum Neil MacGregor.
Statue of a seated Buddha preaching, 2nd century – 3rd century, Ghandara, Pakistan. Photo: © Trustees of the British Museum.
Exhibition Curator Jill Cook says 'human beings are fascinating creatures. We define our existence by our ability to think and our species has had the neurological faculties – the mind – to transform our ideas into objects that have been a key to our evolution and identities for a long time. As fully modern humans we go one step further: we also symbolise our thoughts in stories and images. What is it we symbolise? Our feelings of love and sorrow, of course, but also beings, vital forces and worlds beyond nature that we venerate and sometimes fear. Such powerful, mystical ideas govern personal lives as well as defining cultural identities and social bonds.'
Qibla indicator made for finding the direction of Mecca, 1582-1583, Egypt. Photo: © Trustees of the British Museum.
The exhibition will include everyday objects relating to world faiths, traditional indigenous, archaeological and modern civil practices. It will include intriguing pieces from the end of the last Ice Age that depict beings that do not exist in nature, to familiar objects of everyday practices of all periods – including a remarkable 18th-century replica of a Hindu ceremonial chariot of the kind pulled from a temple to reveal deities during festivals, posters relating to Soviet scientific atheism, and a Chinese badge celebrating 'Mao's mangoes' in an extraordinary example of 20th-century veneration.
Lampedusa Cross: Wooden cross made by Franciso Tuccio from the wreckage of a refugee boat off Lampedusa, 2015, Italy. Photo: © Trustees of the British Museum.
The British Museum will take a new, experiential and innovative approach to the design of the exhibition. It will incorporate the sounds, music and silence associated with religious practice, with moments of surprise, achieved with atmospheric lighting effects.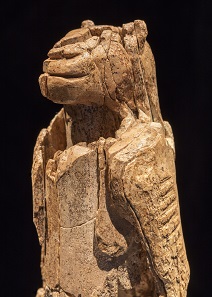 Lion Man: Mammoth ivory sculpture representing a human body with a lion's head, 40,000 years old, Ulm, Germany. © Museum Ulm, photo: Oleg Kuchar, Ulm.
John Studzinski, Founder & Chairman of the Genesis Foundation said 'The Genesis Foundation works with prestigious UK arts organisations and is particularly dedicated to supporting projects on the theme of faith. Faith is an integral part of my life, which means that I am conscious of the divine in all sorts of circumstances, in sacred and secular spaces, in nature and in man-made objects. As soon as we began to discuss this exhibition, I was compelled by the idea of uniting in one place objects that explore religious across the world and throughout history. I am looking forward to witnessing people's responses, both spiritual and emotional, as they make a connection to the divine at the British Museum. When we share an experience of this kind, we remember that we are more united than we often acknowledge, and I hope that this exhibition will remind us of that.
For more information visit the website of the British Museum.
If you want to get some impressions about this exhibition, here is a Youtube video.
If you would like to listen to the BBC series "Living with the Gods", here is the website.
There were also some interesting animations produced.
The British Museum Blog is highlighting some very special objects from this exhibition.