[bsa_pro_ad_space id=4]
by Ursula Kampmann
translated by Almuth Klingner
April 19, 2018 – "Due to last weekend's events, the Musée Dobrée and the exhibition 'A journey through the Collections' remains closed. Thank you for your understanding." This terse statement is currently displayed on the website of the Musée Dobrée in Nantes.
Actually, the museum is closed due to restauration work until 2021 anyway. In order to still show some of its treasures, it had opened an exhibition on May 20th, 2017, displaying 350 significant items from its collections.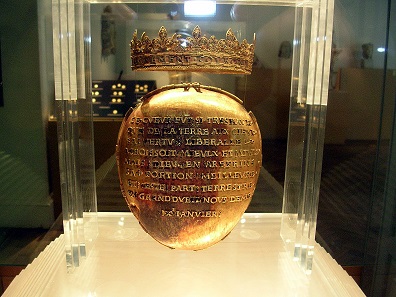 The heart of Anne of Brittany. Photo: Jibi44, March 2006 / Wikipedia cc-by 3.0.
Highlight of the exhibition was the golden heart of Anne of Brittany, held by the museum since 1886. Anne, the wife of Louis XII, had requested that her heart be buried with her parents at the Carmelite chapel in Nantes. The chapel was among the churches that were destroyed during the French Revolution. Like a miracle, her parents' Renaissance tomb, art-historically of high importance, and Anne's golden heart remained intact. The tomb was transferred to the cathedral in 1817, the heart reliquary, made in 1514, ended up at the Musée Dobrée.
From there, it was stolen in the night between April 13 and 14, 2018, together with a gilt statue of a Hindu deity and a group of 57 gold coins and 10 gold medals. The French coins mostly originate from the 14th century; the most remarkable item is likely to be a gold medal from Denmark, nearly 800g heavy, issued in 1677 on occasion of the Danish victories at sea.
The fact that the thieves took only golden items leads to the conclusion that they were not attracted by the exhibits' historical or emotional meaning, but solely their material value. Thus, one is easily empathic with the museum's director, who urged the burglars in an emotional interview not to do the irreversible – that is to say, not to smelt the items.
One can only hope that the heart of Anne of Brittany won't meet the same fate as the items that were stolen during the infamous theft at the Bibliothèque nationale in the night between November 5 and 6 in 1831. Almost all of them ended up back in state possession – but smelted into gold bars.
A list of the stolen coins can be found on the cgb website.
CoinsWeekly has an article reporting on a medal made with the same dies as the one taken by the thieves. This one is in possession of the Vienna Coin Cabinet.
The French press reported on the theft. However, without going into detail as to how the crime was committed.
Patrick Perin published a detailed article (in German) on the theft of 1831 from the Bibliothèque nationale (at the time royale).
After the Berlin theft as well, the police were unable to recapture the Big Maple Leaf, even though the thieves were caught.