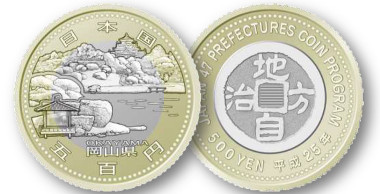 [bsa_pro_ad_space id=4]
July 10, 2014 – Japan Mint continues the popular "47 Prefectures series" issuing coins dedicated to the prefectures of Okayama, Shizuoka, Yamanashi and Kagoshima. All the following are 500-Yen Bicolor Clad Coins from the 2013 "47 Prefectures" series and have the same reverse design, the shape of Japanese old coin and Kanji letters meaning "local autonomy". Latent image technology is applied to the center of the shape of Japanese old coin to make letters of "47" representing the number of prefectures in Japan, and "60" representing the 60th Anniversary of Enforcement of the Local Autonomy Law appear alternately when viewed from different angles.
Okayama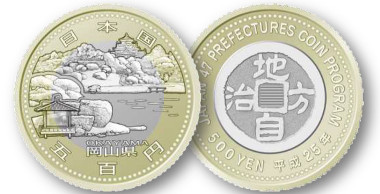 Obverse Design: "Okayama Korakuen Garden"
Okayama Karakuen Garden is a Japanese garden with a path around a central pond and the current total site area is 13.3 hectares. It took 14 years for the construction by Tsuda Nagatada ordered by the domain lord of Okayama; Ikeda Tsunamasa. It is known as one of the three most beautiful gardens in Japan as well as Kairakuen Garden in Mito (Ibaraki Pref.) and Kenrokuen Garden in Kanazawa (Ishikawa Pref.). Donated to Okayama Prefecture in 1871 and designated as the special place of scenic beauty by the Japanese government in 1952. This garden will celebrate the 130th anniversary of the start of its opening to the public in 2014.
Shizuoka
Obverse Design: "Fujisan and tea plantation"
Fujisan, also known as Mt. Fuji, is the highest mountain in Japan at 3,776m. Mt. Fuji has been elevated to the status of a divinity as a religious object through the ages and also has been a resource of various art works in Japan. As a symbol of Japan, Mt. Fuji was registered as a UNESCO World Cultural Heritage Site in June 2013 because of its great historical and cultural values. Tea plantation: It is said to have begun in 1241 when a Buddhist monk Enni cultivated tea, which seeds had been brought by him from Song Dynasty in China to Japan, in his birthplace Shizuoka. The growing area of tea in Shizuoka is 185 square km as of 2012 and it tops the list in whole of Japan. Also, the yield of unrefined or crude tea in Shizuoka reached 33,500 tons in 2011 and the share was about 40 per cent of the total in Japan.
Yamanashi
Obverse Design: "Fujisan and grapes"
Koshu Grape is said to be a Japanese indigenous grape with 1,300 years history, and has been cultivated in Katsunuma area in Yamanashi. It is now widely cultivated in Yamanashi prefecture as eating or wine grapes. The harvest season is from the middle of September to late October.
Kagoshima
Obverse Design: "Mt. Sakurajima"
Mt. Sakurajima is a volcanic island with about 12 km from east to west and about 10 km from north to south in Kinkowan Bay. It used to be a literally island, but after the eruption in 1914, it connected with the peninsula. Mt. Sakurajima is an active volcano and the fuming Mt. Sakurajima is definitely one of the most famous landscape of Kagoshima prefecture.
For a complete list of all coins issued in the "47 Prefectures" series, visit this website.
You can see the active Mt. Sakurajima in this video.
To get an idea of the traditional tea ceremony where tea from Shizuoka may be employed take a look here.