[bsa_pro_ad_space id=4]
August 11, 2011 – The last known Tasmanian Tiger, 'Benjamin', died in a Zoo September 7 1936, since then Australian 'National Threatened Species Day'. Now Benjamin has been immortalized on a commemorative coin combining 3-dimensional techniques into an eight part lenticular coin.
Uniquely beautiful, majestically powerful and once abundant, the Thylacine was an animal like no other. Paying tribute to the last of this species, Downies announces the 2011 Tasmanian Tiger Lenticular Coins.
Niue – 5 NZD – 925 silver – 25g – 40.0 mm – Mintage: 3,000.
Showcasing an eight part moving image of 'Benjamin' moving from the back of his cage to the front and opening his massive jaws, the 2011 releases are available in both a $5 .925 Sterling Silver Proof …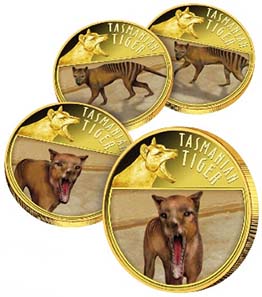 Niue – 1 NZD – gold plated proof like – 40.0 mm.
… and a $1 Gold-plated Prooflike. Official Niue legal tender issues, the obverse of both coins are distinguished by Ian Rank-Broadley's portrayal of Her Majesty Queen Elizabeth II.
Marking the significant event, which changed the hierarchy of the Australian animal kingdom forever, the 75th anniversary of 'Benjamin' is celebrated. Resembling a short-haired dog with a wolf like head and powerful jaws that could open up to 120 degrees, the Thylacine was given the common name of the 'Tasmanian Tiger' due to the distinctive stripe markings throughout its fur.
Tasmanian Tiger. Photo from 1928.
With a direct correlation between human activity and the considerable reduction in the Thylacine population, the early 1900s saw efforts being put into place to save the Tasmanian Tiger from extinction. However, due to the vulnerability of livestock, these efforts became undermined and in 1933 the last killing of a Thylacine occurred in the wild. From slaughter to captivity, this year also saw the last known Tasmanian Tiger, 'Benjamin', captured and placed into the Hobart Zoo, where it survived for just three years, dying September 7 1936, the date which has since become Australian 'National Threatened Species Day'.
Downie's Marketing Manager, Alan Marks, said yesterday that it is always a great pleasure to be behind a release that not only incorporates numismatic innovation but also commemorates an historical event that ultimately changed Australia's fate.
"Combining 3-dimensional techniques into an eight part lenticular coin ultimately shows the brilliance of numismatic technology. Uniting that with the use of the last known original footage of Benjamin taken by David Fleay in 1933 to create this moving image legal tender coin is at the forefront of this industry" he said. "Whilst the efforts to save the Tasmanian Tiger failed dramatically, it is a pleasure to see the legacy of Benjamin live on throughout both David Fleay's footage and this release".
For more information on this coin or if you wish to purchase it, visit the Downie's website.
You can see the mentioned last footage of Benjamin, taken in 1936, here.