[bsa_pro_ad_space id=4]
December 15, 2011 – The lucky chimney sweep brings in the year 2012 by successfully climbing to the top of the Alps and celebrating with a big thumb up.
The other side of the token has the standard verse, loosely translated as:
"Although, I am small and round,
I'll bring you luck all year round."
Lucky tokens have a tradition in Austria since the 1930's. Many people give them to each other with the wish for a happy, healthy and successful coming year. Austrians will carry the annual token in their purses, pockets and wallets for the whole year to maintain the best wishes at all times.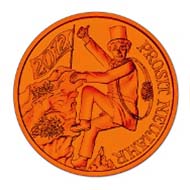 The lucky token design is by Austrian Mint engraver Christa Reiter. Lucky tokens are struck in both bronze and 900 fine silver.
Other lucky tokens you can find on the website of the Austrian Mint.