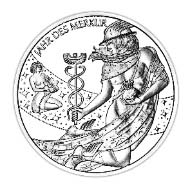 [bsa_pro_ad_space id=4]
December 8, 2011 – Mercury rules the skies in 2012. In Greek mythology, Mercury is known as Hermes the messenger of the gods, an inventor, and thief. The Latin root of Mercury is merx, which indicates merchant. Hence, Mercury is the god of commerce, exchange of trade and even pickpockets. Mercury's speed with negotiations, quick thinking and mischievousness represents the way we think and all forms of communication, both the written and spoken word. Mercury influences writers, astrologers, mathematicians, engineers, media and businesspeople to name but a few.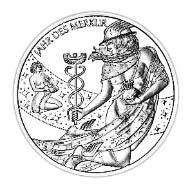 Mercury is depicted on the medal with his winged helmet, wings on his shoes, and his hair blowing. The speed of the wind represents the speed with which Mercury could be sent anywhere by the gods as their messenger. Also noted is Mercury elaborate staff or caduceus with intertwined ribbons, often shown as intertwined snakes that represent his role as messenger and his ability to negotiate. Mercury is holding a sack filled with money, symbolic of his role in commerce.
Mercury is the ruler of Gemini, his day sign, and the ruler of Virgo, his night sign. Virgo is depicted in left area of the design, floating along the Milky Way. People with these signs prominent in their astrology are greatly influenced by Mercury. Mercury's day is Wednesday while its gemstone is emerald.
The other side of the medal depicts all the Sundays in 2012 floating on strands of the hair flowing from the Gemini twins, while all the national holidays are listed in the text located in the outer two circles of the medal.
The medal was designed and engraved by the Mint's Chief Engraver Thomas Pesendorfer. The calendar medal has been an Austrian tradition since the 1930's. Annually the medal changes to reflect a respective year's regent and astrological ruler. The calendar medal is struck in 900 fine silver, weighs 26 grams and has a diameter of 40 millimeters.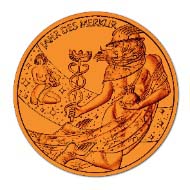 For the first time in many years, the 2012 medal will also be available in bronze due to the high silver price.
The Austrian Mint's previous calendar medals you will find here.