[bsa_pro_ad_space id=4]
August 16, 2018 – "The Art of Power" focuses on three remarkable women who set standards in courtly culture within the Habsburg dynasty: Archduchess Margaret, governor of the Burgundian Netherlands (1480–1530), Archduchess Mary, Queen of Hungary (1505–1558), and Archduchess Catherine, Queen of Portugal (1507–1578). For the first time, an exhibition focuses on Habsburg female patronage in the Renaissance. Thus, this special exhibition on three powerful women, a daughter and two granddaughters of Emperor Maximilian I, sheds light on an unknown side of patronage in the history of art.
Portrait medallion of Archduchess Margaret of Austria, Conrat Meit, dated: 1528. Photo: KHM-Museumsverband
This high-calibre exhibition presents some one hundred works from important European collections from Hungary, Portugal, Germany, Switzerland and Austria, including out-standing objects from Schloss Ambras Innsbruck and the Kunsthistorisches Museum, Vienna: Kunstkammer objects, paintings, sculptures, illuminated manuscripts, valuable gemstone jewellery and objects from foreign countries that had not been seen before in Europe.
The special exhibition is curated by Dagmar Eichberger and Annemarie Jordan Gschwend and will be accompanied by a richly illustrated catalogue in a German and English edition.
Drinking Horn or Griffin's Claw. Northern Germany (?), 2nd half of the 14th century. Photo: KHM-Museumsverband
Art is a medium which transmits ideas without the need for words, leaving viewers with lasting impressions. Tapestries, portraits, sculptures, illuminated manuscripts, valuable jewels, and objects from new foreign lands were the media used to define social status, rank and wealth in the Renaissance. The men of the Habsburg house became impressive collectors in the 16th century: Maximilian I, Archduke Ferdinand II, Maximilian II, Philip II and Rudolf II.
Portrait medals of Philibert of Savoy and Margaret of Austria after Jean Marende, 1502. Photo: KHM-Museumsverband
More recently, the leading role of prominent Habsburg women as cultural agents involved in the acquisition, collecting, display and ownership of collections has been given more recognition. As political representatives of emperors and as wives of ruling kings across Europe, these women had access to the best artists of their time, at the same time satisfying their passion for collecting by resorting to international dealers and intermediaries.
Margaret of Austria, Netherlandish, after 1506. Photo: KHM-Museumsverband
The outstanding art collection of the Archduchess Margaret of Austria (1480-1530), daughter of Emperor Maximilian I and Governess of the Netherlands, based in Mechelen (Malines) is regarded today as the forerunner and model for younger generations of women in her family.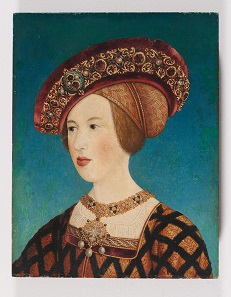 Mary of Hungary, Hans Maler, Innsbruck, 1519/20. Photo: Kunstsammlungen der Veste Coburg, Stadt Coburg und Bundesrepublik Deutschland
Mary of Hungary (1505-1558), younger sister of Emperor Charles V, grew up at Margaret's court, experienced her aunt's collection firsthand. As widow and later regent, Mary inherited Margaret's library and implemented the idea for a Habsburg dynastic portrait gallery in Brussels. She quickly became a leading patron, building palaces and collaborating closely with such painters and sculptors as Anthonis Mor, Leone Leoni und Jacques DuBroeucq.
Catherine of Austria, Queen of Portugal, Cristovao Lopes (after Anthonis Mor). Photo: Museu de Sao Roque / Santa Casa da Misericórdia de Lisboa
Catherine of Austria (1507-1578), Queen of Portugal, the youngest sister of Emperor Charles V, was exposed to other collecting trends in Spain and Portugal. She specialized in the importation of exotica and luxury wares from Africa, Asia and the New World. She supplied the Habsburg family network with foreign objects and wild animals.
Medal of Margaret of Austria, Netherlandish (?), after 1508. Photo: KHM-Museumsverband
The exhibition at Ambras Castle is part of a series of significant international exhibitions. The generously designed exhibitions in recent years about Emperor Charles V, Emperor Ferdinand I and Emperor Rudolf II, as well as about Archduke Ferdinand II in Innsbruck in 2017 and Prague in 2017/2018, resulted in very successful presentations which have shaped the political, historical and cultural image of the Habsburg dynasty in a lasting fashion. The current exhibition "Women. Art and Power" here joins the ranks: it makes three of the most important Habsburg Archduchesses of the 16th century accessible to a broad public.
The exhibition in Innsbruck sheds light in advance on the commemorative year 2019 for Maximilian I (1459– 1519). In 2019, the 500th anniversary of the death of Emperor Maximilian I will be memorialized with many exhibitions and events. The special exhibition at Ambras Castle already thematises one year ahead of time the legacy of this great ruler, thereby highlighting aspects which until now have been little known. Instead of emphasising the usual, historical, male series of emperors, the Kunsthistorisches Museum offers for the first time a view of a daughter and two granddaughters of Maximilian, three powerful women who came after him and who, in the house of Habsburg, were particularly appreciative of the arts.
You can visit the Ambras Castle online on their website.
If you're interested in the Rise and Fall of the Habsburg Empire, this video explains its territorial gains and losses.
Everything there is to know on early modern Austrian coinage can be found in our archive.