[bsa_pro_ad_space id=4]
January 16, 2014 – The Royal Australian Mint has revealed the new theme for its gallery press which this year is honouring the 200th anniversary of the publication of Matthew Flinders' journal "A Voyage to Terra Australis".
The historic theme of Australian exploration was unveiled to the eager queue that have waited for days and nights outside the Mint's building for the opportunity to be one of the first 100 in the world to strike a coin in 2014.
"This special new year event is one that is marked on many of our coin collectors' calendars as it is a rare opportunity to be, what is possibly, the first person in the world to make a coin in 2014," said Royal Australian Mint CEO Mr Ross MacDiarmid.
2014 $1 C mintmark "A Voyage to Terra Australis" uncirculated coin. Reverse.
The coin design that the dedicated collectors struck today features an intricate $1 uncirculated coin with an artistic impression of Australia and a stylised tall ship in full sail within a compass rose, marking the 200th anniversary of Matthew Flinders' journal "A Voyage to Terra Australis".
2014 $1 "A Voyage to Terra Australis" Fine Silver Proof coin.
For those how want something a little more special, The Voyage to Terra Australis design also features on a silver proof coin.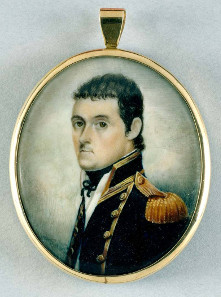 Watercolour miniature portrait of British navigator Matthew Flinders, dated about 1800. Source: State Library of New South Wales / http://creativecommons.org/licenses/by-sa/3.0/au/deed.en
Matthew Flinders was a remarkable sailor, captain and explorer, his journal recounts a time when Australia was a vast unknown land for European settlers. The journal includes tales of Flinders' expeditions aboard HMAS Investigator and other vessels, including the first circumnavigation of the Australian continent.
"The Royal Australian Mint recognises important Australian historic milestones and with this coin we are honouring one of Australia's most accomplished explorers and the man attributed to first referring this land as Australia," said Mr MacDiarmid. "The Voyage to Terra Australis coin ties modern Australia to the early days of European settlement, exploration and adventure. Sadly Captain Flinders never lived to see his book published so you can only imagine what he would think about a coin being dedicated to his work."
The coins will feature in the Mint's gallery press for the entire year and all bear a "C" for Canberra mark, making these coins a memento to keep.
For more information about "Voyage to Terra Australis" $1 uncirculated or silver proof coins you can visit the Royal Mint's website.
Find out more about Matthew Flinders' explorations here.
You can watch a film on Flinder and his discovery of Australia.