[bsa_pro_ad_space id=4]
May 18, 2017 – The Perth Mint is proud to present the latest gold release from The ANZAC Spirit 100th Anniversary Coin Series commemorating the 4th Light Horse Brigade. The 4th Light Horse Brigade was made up of the 4th, 11th, and 12th Light Horse Regiments, which served with distinction on Gallipoli and in Sinai-Palestine during the First World War.
Australia / 25 AUD / Gold .9999 / 1/4oz / 20.60mm / Design: Wade Robinson / Mintage: 1,000.
The coin's obverse depicts the Ian Rank-Broadley effigy of Her Majesty Queen Elizabeth II, the 2017 year-date, and the monetary denomination.
The coin's reverse depicts a member of the 4th Light Horse Brigade with his horse. The design includes a red poppy, the inscription THOSE MARVELLOUS HORSES 1917, as well as The Perth Mint's traditional 'P' mintmark.
To capture the depth and detail of the design, the coin is struck in high relief to a rimless format, and has been individually 'antiqued' to give it a unique finish conveying the surface abrasions of an ancient artefact. As a result of this treatment, the appearance of each coin may vary.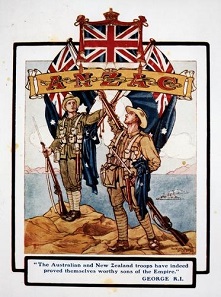 Popular illustration of Anzac troops after the fighting at Gallipoli.
The 4th Light Horse Brigade was formed in March 1915 and served on Gallipoli as dismounted infantry. Their most significant action, however, took place on 31 October 1917 when they participated in a cavalry charge near the town of Beersheba in Palestine, in an effort to route the enemy's Gaza-Beersheba defences. This action was recognised as one of the most famous mounted actions of the First World War.
The coin is struck by The Perth Mint from 1/4oz of 99.99% pure gold, and is issued as legal tender under the Australian 'Currency Act 1965'.
The Perth Mint will release no more than 1,000 of The ANZAC Spirit 100th Anniversary Coin Series – Beersheba 2017 1/4oz Gold Proof Coin.
Each coin will be presented in a black and red themed display case featuring the words PRIDE, RESPECT, and GRATITUDE on the outside of the case, within a themed shipper, and accompanied by a numbered Certificate of Authenticity.
To learn more about this and other releases, please visit The Perth Mint website.
More historical background information can be found at the webpage Gallipoli and the Anzacs.

And on YouTube, you can watch the film ANZACS – In The Face Of War.