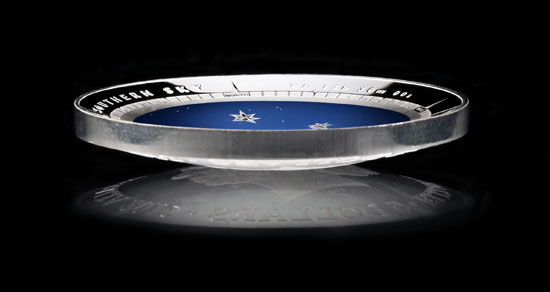 [bsa_pro_ad_space id=4]
August 30, 2012 – The Royal Australian Mint is pushing the boundaries in National Science Week and celebrating astronomy and engineering with its newest innovation – a curved coin. With the curved coin creating a domed shape it seemed only fitting for it to emulate the night sky and feature the well known Southern Cross.
The Royal Australian Mint's first curved coin creating a domed shape.
"An astronomical design was perfect for this coin and not only because of the dome shape, we also added color to truly capture the essence of the night sky and bring it to life," said Mr Ross MacDiarmid, Chief Executive Officer of the Royal Australian Mint.
"The Royal Australian Mint has always been at the forefront of coin design and this latest coin release shows just how innovative and unique our products are," said Mr MacDiarmid.
The Mint had unveiled prototypes of the curved coin late last year but they are now hitting the shelves and being snapped up very quickly because of its uniqueness and theming.
"We are always thinking of new ways to develop technologically, and this product was a real challenge in creating a visually appealing design on curved precious metal," Mr MacDiarmid said.
The 2012 $5 Southern Sky: The Crux Silver Proof Colour Printed Domed coin.
"This is the first release dedicated to constellations visible in the Australian sky, and in this new age of space exploration, we look forward to bringing you more astronomically themed products in the years to come," Mr MacDiarmid said.
For more information about this product please visit the website of The Royal Australian Mint.
You don't know much about astronomy? To make sure what the Southern Cross constellation is, take a look here.