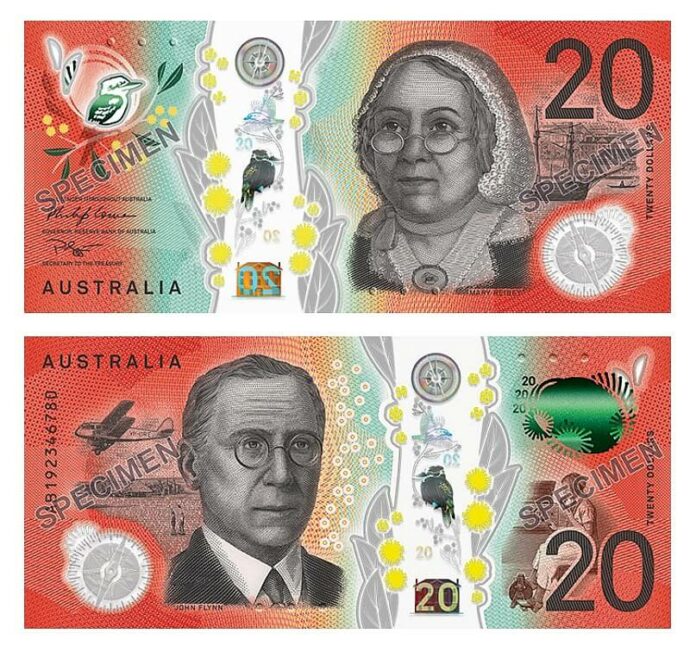 [bsa_pro_ad_space id=4]
The Reserve Bank of Australia has unveiled the fourth banknote in their second polymer series first launched in 2016. The new banknote has undergone a re-design as well as an updating of its security features. The new $20 banknote will continue to feature personalities of two outstanding Australians whose own stories are told through the images which have been incorporated onto the banknote's design. The selection of these prominent Australians also provides a rich diverse narrative and eventful history about their lives in Australia and many like them.
The same innovative security features from the previously released $5, $10 and $50 banknotes have been incorporated to ensure increased technology is applied to the new notes which secure them from easy counterfeiting. The re-designed $20 retains the same orange colour scheme and dimensions of 144 / 65 mm. as the current notes first issued in 1994, and now includes modified portraits of the current personalities presently featured. Ease of recognition was an important characteristic when re-designing the new $20 banknote with the addition of "tactile" features being included. This added feature is designed to help people who are visually impaired to distinguish between different denominations of banknotes. On the $20 banknote for instance, this is achieved with the addition of three raised bumps on each of the long edges.
Polymer banknote technology was developed by Australia with the vast majority of polymer notes worldwide being printed by Note Printing Australia, a wholly owned subsidiary of the Reserve Bank of Australia. Aside from the note printing technology and actual production, Note Printing Australia also supplies the polymer substrate for a growing number of other countries who have transitioned from paper notes to a polymer series of circulation notes. Australia's first series of polymer banknotes were put into circulation from 1992 to 1996. When this series was completed, Australia became the first country in the world to circulate an entire family of polymer banknote denominations. The transition was made from paper notes after the world's first banknote, a commemorative issue was released in 1988 in celebration of the bicentenary of the first European permanent settlement of Australia.
The new banknote's overall look is carried over from the three other denominations to undergo a revision that also included additional or updated security features. As part of the re-design, each banknote in the new series also features a different species of native Australia wattle, or plant life and bird. In the case of the $20 note, featured are the box-leaf wattle (Acacia buxifolia) and the laughing kookaburra.
Images on the obverse
Mary Reibey (1777 – 1855) arrived in Australia as a fifteen-year-old convict in 1792, and rose to become a landowner, merchant, publican and trader. Convicted of horse stealing at Stafford on the 21st July 1790, she was dressed as a boy and gave her name as James Burrow, but at her trial her true identity was disclosed. At this young age, her parents had already died and she was living with her grandmother. She arrived in Sydney aboard the Royal Admiral in October 1792 and was assigned as a nursemaid. On the 7th September 1794 she married Thomas Reibey, a young Irishman in the service of the East India Company, whom she had met while they were both being transported and who had returned to Sydney that year. She and Thomas went on to become the parents of seven children.
On the death of her husband in 1811, and his partner Edward Wills a month later, Mary Reibey was left in entire control of her husband's numerous business concerns. She had experience in assisting her husband and managing his interests. By 1820, she was said to be worth about £20,000, a staggering amount of wealth at the time and held 1000 acres. She died on the 30th May 1855 and was remembered as one of the colony's most successful and legendary businesswomen who broke out of rigidly defined social norms to earn a reputation as an astute and successful businesswoman. Aside from running her shipping and trading enterprises, she also became known for her support of charity, religion and education.
An image of a Port Jackson schooner in Sydney Cove in the early 1800s, similar to the type owned by Mary Reibey is also included on the obverse design. Beside it is a traditional Eora nowie or, canoe. Aboriginal women fishing from these vessels were a common sight on the harbour in Reibey's time.
Images on the reverse
John Flynn (1880-1951) whose portrait now faces to the right, founded the Australian Inland Mission which later became Frontier Services. He would devote his later life to setting up the state sections of the National Aerial Medical Service of Australia, this vital service later became the world renowned Flying Doctor Service of Australia. Born on the 25th November 1880 in Moliagul, Colony of Victoria, Flynn began his education at Snake Valley, Sunshine and Braybrook primary schools and at the age of 18, he enrolled at the University High School in Parkville, Melbourne. Since he was unable to finance his university course, he became a pupil-teacher with the Victorian Education Department, during this time, he developed interests in photography and more importantly, first aid.
In 1903, Flynn began training for the ministry through an extra-curricular course for student lay pastors, spending the next four years in theological college and travelling around remote shearing sheds in the outback. During these travels, Flynn wrote The Bushman's Companion which was a small volume of useful information first published in 1910 composed for the benefit of outback residents and contained sections on first aid, bible readings, funeral service and a calendar. Flynn's earliest vision was to establish a mantle of safety for the people living in the Outback, he swiftly established the need for medical care for residents of the vast Australian outback, and established a number of bush hospitals.
As early as 1917, Flynn was already considering radio and aircraft to assist in providing a more useful and crucial medical service, he then received a letter from an Australian pilot serving in World War I who had heard of Flynn's speculations and outlined the capabilities and costs of then-available surplus planes. This was the start of Flynn turning his considerable fund-raising talents to the task of establishing a flying medical service, and Australia's first flight of the Aerial Medical Service took place in 1928 from Cloncurry in Queensland.
Today, the Royal Flying Doctor Service (RFDS) remains the largest and most comprehensive aeromedical emergency and healthcare service in the world. On the reverse side and to the left of Flynn's portrait is an image of a RFDS De Havilland aircraft leaving a remote Broken Hill homestead in 1948. A pedal-powered transceiver used by the service to improve communication in remote areas is seen to the far lower right.
The new design also features a top-to-bottom clear window that contains dynamic elements, including a flying kookaburra that moves its wings and changes colour, and a reversing number '20'. There is also a patch with a rolling-colour effect and microprint featuring excerpts from Flynn's publication The Bushman's Companion and the names of Reibey's ships.
The Reserve Bank of Australia have announced that the new $20 banknotes are scheduled to be released in October 2019, with existing $20 banknotes remaining legal tender as all previously issued RBA banknotes. A new $100 banknote within this new up-graded series is expected to be issued next year.
The author, Michael Alexander is president of the London Banknote and Monetary Research Centre.
For additional information on this and other banknotes issued by the Reserve Bank of Australia, please visit their website.
More on the life and work of Mary Ribey can be found in the Australian Dictionary of Biography. The Encyclopaedia Britannica tells you more about John Flynn.
A bribery scandal in connection with the printing of polymer banknotes shook Australia in 2011. You can read more on this on CoinsWeekly.
Polymer banknotes are replacing traditional paper banknotes in many countries around the world. CoinsWeekly reported on the debate about the advantages and disadvantages of polymer banknotes in Canada as well as the introduction of new £5 and £10 banknotes in the UK in 2014. In 2019, polymer banknotes were issued in the Eastern Caribbean.