[bsa_pro_ad_space id=4]
Attractive Coins With 42 Premium Lots at Solidus
Solidus' Winter Auction 53 is online since February 6. It contains 456 individual lots, including 42 selected premium lots with which the auction starts. The auction offers a wide range of attractive collector's coins from Antiquity, the Middle Ages and Modern Times, including some interesting medals. The auction will be held on the AUEX auction platform on Sunday, February 16 from 4:00 p.m. as a live auction. Pre-bids can already be made.
Among the premium coins there are some particularly beautiful or rare coins from Magna Graecia, e.g. Didrachmas from Taras/Tarentum (Lots 1 – 3), a Tetradrachma from Katana (Lot 5) or electron Hemistaters from Syracuse (Lots 6 and 7).
A magnificent tetradrachma from Akanthos with an attractive animal fight scene (Lot 9) comes from Macedonia, as well as two gold Staters from Alexander III. the great (Lots 10 and 11). Two archaic Attic Tetradrachmas (Lots 12 and 13) also deserve mention.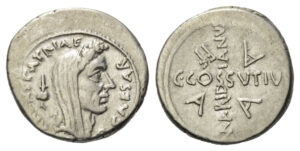 Among the Denarii of the Roman Republic, a very rare Denarius of Caesar stands out, depicting the dictator with his veiled head (Lot 19). This is followed by Roman Denarii of the imperial period, which are characterized by excellent preservation and particularly beautiful portraits. It concludes with some particularly beautiful gold coins from late Antiquity and from Byzantium.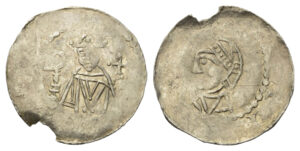 Two extraordinary Pfennigs from the High Middle Ages deserve special attention. On the one hand, an extremely rare Denarius of Heinrich IV, whom Dannenberg and Steinhilber ascribed to the Augsburg mint (Lot 32). Of particular interest is a probably unpublished Pfennig, which, due to its design and the content of the pictures, may represent an early Tübingen coinage from the late 11th century (Lot 33).
This is followed by beautiful gold and silver coins from Germany and Europe. A great rarity is an Italian gold medal by Vittorio Emanuele III. with the weight of a 100 Lire piece from 1928, that was only awarded in small numbers to the highest military (Marshals of Italy) and civil dignitaries of the state (Lot 41).
The second part of the auction contains attractive coins from the following collection areas: Celts, contemporary imitations of ancient coins, Greeks, Roman Empire (Republic, Imperial Period, provincial Roman coins), Byzantium, Middle Ages (Germany and Europe, including the Principality of Wallachia), Germany (16. – 20th century), Habsburgs and Austria (17th – 20th centuries), Europe (17th – 20th centuries, among others France, Poland, Russia, Hungary), World (USA and Brazil). Finally, some selected medals complete the auction. There are also some exceptionally beautiful gold coins among the coins of the second part (e.g. Lot 352, an excellent Solidus from Basilius I and Constantinus, or Lot 497, an Hungarian Ducat of 1868 from Karlsburg-Gyualfehérvár) in about mint state.
You can browse through the complete auction catalogue on AUEX. The auction is also available on Sixbid.
You can place your maximum bids before the auction – or during the live auction, during which you can bid on the lots in real time and actively influence the auction process, similar to a floor auction.
The coins can be viewed at the office of Solidus Numismatik prior to the auction (only by appointment).
For further information visit the website of Soldius Numismatik.