[bsa_pro_ad_space id=4]
Atlas Numismatics Update Their Fixed Price Offers in October
Atlas Numismatics updated their website with 204 new coins, medals, and tokens at fixed prices. Selections include the following items:
Mint State Louis XIII Double Louis d'Or
No. 1064963: France. Louis XIII. (1610-1643). AV 2 Louis d'Or, 1640-A, Paris. PCGS MS62. · LVDO · XIII · D · G ·…. Laureate bust, right / · CHRS · · REGN · · VINC · · IMP ·. Four cruciform crowned double L's, fleur de lis in angles. Price: $37,500.
Beautifully Toned Louis Philippe 5 Francs
No. 1064995: France. Louis-Philippe I. (1830-1848). AR 5 Francs, 1836-A, Paris. PCGS MS64. By Joseph-François Domard. Edge: ***DIEU PROTEGE LA FRANCE. LOUIS PHILIPPE I ROI DES FRANCAIS. Laureate head right / Mint marks at edge outside wreath. Superbly toned. Price: $1,650.
Choice Anne Guinea
No. 1065075: Great Britain. Anne (1702-1714). AV Guinea, 1714. PCGS MS63. ANNA · DEI · – GRATIA ·. Third bust left / MAG – BRI · FR – ET · HIB – REG ·. Crowned shields in cruciform, sceptres at angles. Price: $29,500.
Iturbide Proclamation Medal
No. 1065022: Mexico. Augustin I Iturbide. (1822-1823). AR Proclamation Medal, 1823. PCGS MS64. By F. Gordillo. Edge: Plain. AUGUSTIN Y ANA EN SU FELIZ EXALTACION AL TRONO YMPERIAL DE MEXICO. Conjoined busts, left; signed on truncation / Radiant eye above a large crown, sword and scepter on an inscribed altar; signed in exergue. Price: $4,500.
Defeat of Spanish Armada Commemorated
No. 1065048: Netherlands. Holland. AR Medal, 1588. PCGS AU55. By Gerhard van Bijlaer (unsigned). Edge: Plain. Philip II and other Catholic heads of Church and State seated, blindfolded, with feet on spiked floor / The Spanish fleet driven against rocks. Defeat of the Spanish Armada. Lovely cabinet patina and struck on a large planchet (one of the heaviest recorded weights we could find). A superb example of this very rare and popular medal. Price: $16,500.
Wilhelmina I Pattern 2-1/2 Gulden
No. 1065143: Netherlands. Wilhelmina I (1890-1948). AR Pattern 2-1/2 Gulden, 1929. PCGS SP64. Edge: GOD * ZIJ * MET * ONS *. WILHELMINA KONINGIN DER NEDERLANDEN. Head left / MUNT VAN HET KONINGRIJK DER NEDERLANDEN. Crowned arms divide privy marks of (seahorse) and (caduceus) above and date below. Price: $5,750.
Uncirculated 4 Excelentes, Calico Plate Coin
No. 1065379: Spain. Ferdinand and Isabella. (1475-1504). AV 4 Excelentes (1474-1504)-(Aqueduct), Segovia. PCGS MS62. +FЄRnAnDUS (triple annulets) ЄT: ҺЄLISABЄT: D: G: RЄX: ЄT: RЄGInA: (double annulet stops). Crowned and mantled busts facing one another; (Aqueduct) above, annulet above IIIJ below; A in right field behind head / SVB: VRBRA: ALARVM: TVARVM: PROTEGE: NO:. Nimbate eagle facing, head left, with wings displayed, bearing crowned royal coat-of-arms. Superb original surfaces; extremely rare in this quality. 2019 Calico Plate Coin (noted on PCGS insert). Price: $95,000.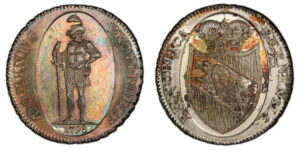 Gem Bern Thaler
No. 1065334: Swiss Cantons. Bern. AR Thaler, 1798. PCGS MS66+. BERNENSIS RESPUBLICA. Crowned, spade arms of Bern within wide oval frame / DOMINUS PROVIDEBIT. Standing Swiss with long sword, date below within wide oval frame. Superbly toned gem; an exceptional example. Price: $4,950.
Updates to their online inventory are issued monthly.
For more information and to sign up for the firm's monthly newsletter, visit the Atlas website.