[bsa_pro_ad_space id=4]
Atlas Numismatics Updates Their Fixed Price Offers in January
Atlas Numismatics has updated their website with 456 new coins, medals, and tokens at fixed prices. Selections include the following items: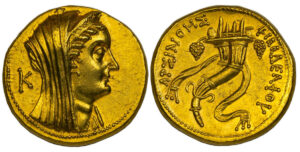 Mint State Arsinoe II Mnaieion or Oktadrachm
No. 1065629: Greek. Ptolemaic Kings of Egypt. Arsinoe II Philadelphos. (Wife of Ptolemy II, died 270/268 BC). Mnaieion – "Oktadrachm", issued after 193/2 BC, Alexandria mint. NGC MS (Mint State) Strike 5/5 Surface 4/5 Edge Marks. Veiled head of Arsinoe II to right, wearing stephane and ram's horn and with a lotus-tipped scepter over her left shoulder; K behind / ΑΡΣΙΝΟΗΣ – ΦΙΛΑΔΕΛΦΟΥ. Double cornucopiae bound with fillet and with two grape bunches hanging at sides. – Fully lustrous and sharply struck in high relief; an extremely attractive example. The noted "edge marks" are some very minor scuffs and not visible in the holder. From the collection of Dr. Hans Krähenbühl, privately acquired from Münzen & Medaillen AG on 28 October 1969 (with photocopies of the original invoice and correspondence between Dr. Herbert A. Cahn and Dr. Hans Krähenbühl regarding the acquisition of this coin). Price: $58,500.
"Hundred Days" Napoleon 5 Francs
No. 1065642: France. Napoleon I. 5 Francs, 1815-A, Paris. PCGS MS61. NAPOLEON EMPEREUR. Laureate head right / EMPIRE FRANCAIS. Denomination within wreath. – Popular type struck during The Hundred Days. Price: $5,750.
1855 Exposition Universelle Medal
No. 1065716: France. Napoleon III. Medal, 1855. PCGS SP63. By Albert Barre. Edge: ARG(ENT) (Main – Pointing hand). Bust, right; signed below truncation / Crowned arms within wreath with an inscribed ribbon; all encircled by heraldic shields. An uninscribed field below. – Exposition Universelle. Superbly toned and very attractive. Price: $2,250.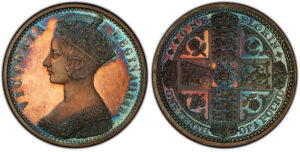 Extremely Rare 1848 Pattern Florin
No. 1065409: Great Britain. Victoria. (1837-1901). Pattern Florin, Two Shillings, 1848. Die Axis 6H (Coin Axis). PCGS PR66+ Cameo. Edge: Grained. VICTORIA REGINA. Gothic crowned bust, left / Crowned shields of England, Scotland and Ireland in cross formation with flowers at corners. – Godless type. Exceedingly rare with the grained/milled edge and this die axis; Maurice Bull lists this type and the similar 2916 (medal axis) as R5 while all other 1848 florin patterns (Bull 2917 through Bull 2944) as R2. Superbly toned and lovely cameo contrast. – Price: $69,500.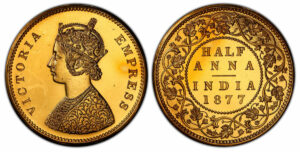 Victoria Half Anna in Gold
No. 1065623: India-British. Victoria. (1837-1901). Restrike 1/2 Anna, 1877-(c). PCGS PR66. Calcutta. Edge: Plain. VICTORIA EMPRESS. Crowned bust left / Value and date within beaded circle and wreath. – Impressive large format type; significantly heavier than the mohur type (11.66g and almost the weight of a double-mohur.) Superb and virtually flawless gem; exceedingly rare. Ex David Fore Collection, A.H. Baldwin & Son, Auction 78, 7th May 2013. Includes old auction ticket. Price: $59,500.
Gem Venice Ducato
No. 1065799: Italian States. Venice. Paolo Renier. (1779-89) LAF Ducato. NGC MS65. S. M. V. PAVL. RAINERIVS. D. St. Mark seated at left presenting staff with cross and pennant at top to doge kneeling at right, mintmaster's initials in exergue / DVCATVS. VENETVS. Lion of St. Mark striding to left, head facing forward, left paw resting on open book, above which is a castle on a hill. – Superb original surfaces; an exceptional strike for the issue. Price: $5,950.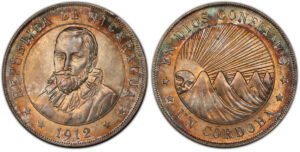 Beautiful Nicaragua Cordoba
No. 1065428: Nicaragua. Cordoba, 1912-H, Heaton, Birmingham. PCGS MS64. Bust facing within circle / Radiant sun and hills within circle. – Medal rotation. Beautifully toned and very rare in this quality. Price: $9,500.
Updates to their online inventory are issued monthly.
For more information and to sign up for the firm's monthly newsletter, visit the Atlas website.