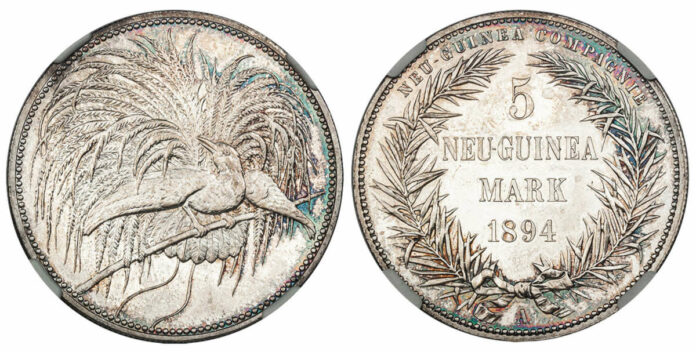 [bsa_pro_ad_space id=4]
Atlas Numismatics Updates Their Fixed Price Offers in November 2022
Atlas Numismatics has updated their website with 397 new coins, medals, and tokens at fixed prices. Selections include the following items: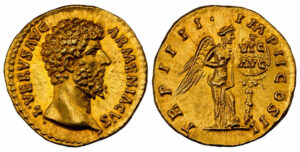 Gem Mint State Lucius Verus Aureus
No. 1071141: Roman Imperial. Lucius Verus. (Emperor, 161-169 AD). Struck 163 AD. AV Aureus. NGC Gem MS (Gem Mint State) Strike 5/5 Surface 5/5 Fine Style. Rome. 7.26gm. L'VERVS AVG – ARMENIACVS. Bare head, right / TRP IIII ' IMP II COS II. Victory standing right holding inscribed shield, VIC/ AVG. Cohen 248; Calico 2174. Ex. Fernand David Collection. Price: $44,500.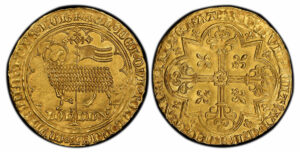 Choice Double Mouton d'Or
No. 1069264: Belgium. Brabant. Joanna and Wenceslas. (Duchess and Duke, 1354-1383). (1355-83) ND AV 2 Mouton d'Or. NGC MS63+. Vilvorde mint. 6.23gm. + AGn o DЄI o QVI o TOLL' o PCCA o MVDI o MISЄRЄRЄ o nOB. Nimbate Agnus Dei left, head right, a long cross with banner behind; all within a tressure broken by IOh' DVX in the exergue / + XP'C : VIИCIT : XP'C : RЄGИAT : XP'C :. Cross fleurée with lis in angles; all within a quadrilobe with lis in spandrels. Fr.-7; Delmonte 44. Sharply struck and lustrous, a superb example of this rare type. Price: $28,500.
Attractive Volcano Peso
No. 1070842: Chile. 1822 FI AR Peso. PCGS MS63. Santiago Mint. Volcano / Y to left of pillar. KM 82.2; WR-7; Elizondo-87. Price: $11,500.
Virtually Flawless 1793 24 Livres
No. 1071146: France. L'An II//1793-W AV 24 Livres. NGC MS66+. Lille. 7.61gm. •REPUBLIQUE FRANÇAISE•. Denomination within wreath; date below / REGNE DE LA LOI ·. Standing Genius writing the Constitution. KM 626.5; Gadoury 62. Superb and exceptional; likely the finest surviving example of the type. Ex. Fernand David Collection.  Price: $89,500.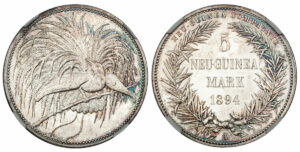 Exceptional German New Guinea Proof 5 Mark
No. 1071042: German New Guinea. 1894-A AR 5 Mark. NGC PR66. Berlin. Denomination and date in palm wreath / Bird of Paradise. KM 7; Jaeger 707. Price: $89,500.
Expressive Portrait of Henry VIII
No. 1069607: Great Britain. England. Henry VIII. (King, 1509-1547). (1526-44)-(Lis) AR Groat. PCGS MS62. London. 2.69gm. (Lis) HENRI… Young Renaissance-style portrait. Laker bust D, larger squarer face with Roman nose, fluffy hair, crown arch does not break inner circle, Lombardic lettering. Without Irish title. / (Lis) POSVI… Coat-of-arms over long cross fourchée, with saltire in forks. SCBC-2337E; North 1797. Groats issued during Henry's lifetime have mintmark Lis on both sides. Price: $2,950.
Lovely Gothic Crown
No. 1071418: Great Britain. Victoria. (Queen, 1837-1901). 1847 AR Gothic Crown. PCGS PR65 Cameo. Royal mint. Edge: UN DECIMO. VICTORIA DEI GRATIA BRITANNIAR. REG: F:D. Crowned bust left / TUEATUR UNITA DEUS, ANNO DOM MDCCCXLVII. Crowned shields of England, Scotland and Ireland in cross formation with flowers at corners. KM 744; SCBC-3883; ESC-2571 (Prev. ESC-288); Dav.-106. The Gothic Crown is considered one of the most beautiful coin types of British coinage. Price: $97,500.
Updates to their online inventory are issued monthly.
For more information and to sign up for the firm's monthly newsletter, visit the Atlas website.