[bsa_pro_ad_space id=4]
Atlas Numismatics Publishes their Newest Fixed-Price List
Atlas Numismatics has updated their website with 515 new coins, medals, and tokens at fixed prices. Selections include the following items: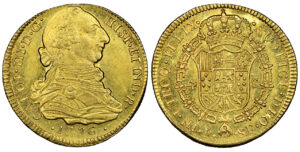 Mint State 1776 4 Escudos of Popayan
1056681: Colombia. Charles III. 1776-P SF AV 4 Escudos. NGC MS62. Popayan. CAROL · III · D · G · HISP · ET IND · R ·. Normal bust right / IN · UTROQ · FELIX · AUSPICE · DEO ·. Crowned arms within Order chain. KM 43.2; Fr-38; Cal-353. Superb lustrous surfaces; likely the finest surviving example of this popular date (the Norweb example resides in a PCGS AU58 holder). $11,500.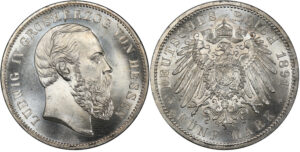 Superb Hesse-Darmstadt 5 Mark
1056555: German States. Hesse-Darmstadt. Ludwig IV. (King, 1877-1892). 1891-A AR 5 Mark. PCGS MS65+. Berlin. LUDWIG IV GROSHERZOG VON HESSEN. Head right / DEUTSCHES REICH (date), FUNF MARK below. Crowned imperial eagle, type III. KM 364; J.-71. Superb and exceptional. $11,500.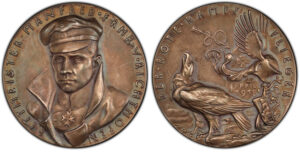 Manfred von Richthofen, The "Red Baron"
1056853: Germany – Empire. 1918 AR Medal. PCGS SP64 Matte. Uniformed portrait slightly left / Eagle with raised head next to memorial stone, family coat of arms and decorated helmet to right. Kienast-288; Zetzmann-6037. On the death of Manfred von Richthofen, the "Red Baron". $750.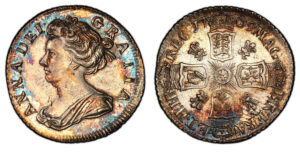 Beautiful Queen Anne Sixpence
1055781: Great Britain. England. Anne. (Queen, 1702-1714). 1705 AR Sixpence. NGC MS63. Bust left / Roses and plumes in angles. KM 516.5; SCBC-3592; ESC-1448 (Prev. ESC-1584A Plumes). Attractively toned and a very rare type in this quality. $1,950.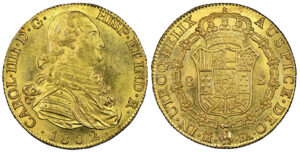 Very Choice 1802 8 Escudos
1056563: Spain. Charles IV. 1802-(Crowned-M) FA AV 8 Escudos. NGC MS64. Madrid. CAROL · IIII · D · G · … Armored bust right / IN · UTROQ · FELIX · AUSPICE · DEO ·. Crowned arms in order chain. KM 437.1. Superb surfaces, exceptional quality for the issue. $11,500.
Updates to their online inventory are issued monthly.
Current and Upcoming Events
Atlas will be attending the following numismatic convention this Fall.
Please stop by our booth and say, Hello if you have a chance.
November 14 – 17, 2018
Baltimore Convention Center, (Booth# 1244)
One West Pratt Street
Baltimore, MD
For more information and to sign up for the firm's monthly newsletter, visit the Atlas website.