[bsa_pro_ad_space id=4]
Atlas Numismatics Updates Their Fixed Price Offers in March
Atlas Numismatics has updated their website with 542 new coins, medals, and tokens at fixed prices. Selections include the following items:
Choice Mint State Bohemia 10 Ducats
No. 1065627: Bohemia. Ferdinand II. 1636 (p) AV 10 Ducats. NGC MS63. Prague. Standing figure of Ferdinand II between two shields / Crowned imperial eagle. – Lustrous choice mint state and sharply struck; extremely rare as such. Price: $165,000.
Agricultural Exhibition in Cairo Medal
No. 1066688: Egypt. Farouk. (1937-1952). (c. AH1356-1937) ND AR Medal. PCGS SP63. By Spink & Son. Edge: Incuse Arabic inscription. Crowned arms between two lions over an engraved inscription; all within branches / Nile landscape and the great pyramids of the Giza plateau in the background. – Struck for the agricultural exhibition in Cairo. Price: $2,950.
Gem "Madonna" Thaler
No. 1066307: German States. Bavaria. Ludwig II. (1864-1886). 1867 AR Thaler. PCGS MS66. By Carl Friedrich Voigt. Edge: XXX * EIN * PFUND * FEIN * – *. LVDOVICVS II BAVARIAE REX. Head, right; no part in hair / PATRONA BAVARIAE. Madonna with child, J. Reis below truncation. – Price: $1,350
Prooflike Hamburg Portugalöser
No. 1066604: German States. Hamburg. 1677 HL AV 10 Ducats Medal (Bankportugalöser). NGC MS63+PL (Prooflike). By J. Rethe (or his son J. Reteke). QUATTUOR HIS SIGNIS PYRAMIS AUCTA DOCET// + HAMBURG +. Allegorical figure of abundance with cornucopia in her right hand and a scepter in her left hand; beside her fabric bales, crates and barrels on the ground, on a chest the initials PBM (Peter Burmester, the oldest bank citizen), on a barrel the signature IUR. To the right, a column inscribed with the coat of arms of the four banking cities. A city view in the background, and the radiant name of Jehovah, above / QUID PRUDENS CONCORS VIGILANS SOLLERTIA PRÆSTET. Three allegorical figures of wisdom, unity and vigilance standing with their attributes; radiant icon of the Trinity, above and a cartouche with date in Roman numerals, MDCLXXVII, below. Gaedechens III, 1609. – Commemorating the major European banking cities: Amsterdam, Hamburg, Nürnberg and Venice. Superb and exceptional with deeply prooflike surfaces. Very rare in all grades and extremely rare in this quality. Price: $195,000.
Superb Goetz Medal Rarity
No. 1066609: Germany-Empire. (1909) ND AR Medal. PCGS SP66+. By Karl Goetz. Facing half-length portrait wearing wig divides dates, 1653 – 1709 / Angel within inscribed ribbon and holding the helmeted family shield of arms. – On the 200th Anniversary of the death of the Nuremberg patrician Johann Karl Schüsselfelder von Kirchensittenbach. Very rare in Silver. Price: $6,750.
Sharply Struck Edward IV Angel
No. 1066647: Great Britain. England. Edward IV. (1461-1470 & 1471-1483). (1477-80)-(Pierced cross and pellet, #19) AV Angel. NGC MS64. London. EDVVARDx DEI GRA'x REXx ANGLx Zx FRANCxx. St. Michael slaying the dragon with spear / PERx CRVCE'x TVAx SALVAx NOSx XPCx REDEM. Ship at sea with an "Є" to right and a (rose) to left sides of masthead, all within beaded ring. – Issued during Edward IV's second reign. Sharply struck and superb. Price: $29,500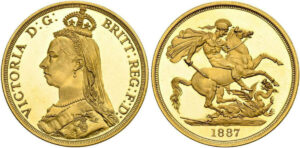 Extremely Rare Proof or Pattern Victoria Two Pounds with No Designer's Initials
No. 1066685: Great Britain. Victoria. (1837-1901). 1887 AV Proof or Pattern Two Pounds. NGC PR64UCAM (Ultra Cameo). London. VICTORIA D:G: BRITT: REG: F:D:. Bust left wearing small crown and veil / St. George slaying the dragon. – Jubilee head "Pattern" Two Pounds without B.P. in exergue. Newly published research by David Iverson entitled "1887 Jubilee Head Two-Pound Pieces of Queen Victoria, A comprehensive Study" has identified the importance and rarity of the 1887 Two Pound without B.P. in exergue type as a pattern coin not previously catalogued as such. In his study, he has uncovered fascinating details and outlined the diagnostics for identifying this variety. Namely, the reverse die for these was created using the surviving master tools of the 1820 and 1823 Two Pound issues, and the 1887 Two Pound proof resulted in a slightly reduced size with the most obvious distinguishing feature being the horse's tail on the reverse and a distinct gap between the crown and the word "BRITT" to the upper right on the obverse. Working with historical records provided by the Royal Mint, Mr. Iverson has uncovered that only a very small number of these no B.P. in exergue patterns were produced around February/March 1887. It is suggested that as few as 15-20 pieces may exist, although official mint records did not record the exact number. What is certain, the Queen herself was presented examples of these coins for final approval before production of the new Jubilee type coins began, and the Royal Mint annual report for 1886, published in May 1887, includes a plate of images of the new designs, including the Two-Pound no B.P. in exergue pattern reverse. Purchased from the Seaby Coin and Medal Bulletin, June 1982, item GG 216. NGC has noted this as "W&R 291 No Initials" on the insert. Price: $57,500.
Satin Proof Churchill Crown
No. 1067159: Great Britain. Elizabeth II. (1952-present). 1965 Copper-Nickel Crown. NGC SP65. By Mary Gillick (Obv.) & Oscar Neman (Rev.). Edge: Reeded. Laureate bust right / CHURCHILL. Sir. Winston Churchill head right. Specimen. Satin finish. – Superb "satin finish" proof with much raised die polish evident. Price: $16,500.
Swiss Planetarium Medal
No. 1066054: Switzerland. Lucerne. 1969 AR Medal. PCGS SP66. Edge: Reeded. 33mm. 15gm. I.PLANETARIUM DER SCHWEIZ. Satellite in space with stars; stamped SP 900 / EROFENUNG IM VERKEHRSHAUS LUZERN// 1. JULI 1969. Sun at center of planetary symbols. – For the Lucerne Planetarium. Price: $169.
Updates to their online inventory are issued monthly.
For more information and to sign up for the firm's monthly newsletter, visit the Atlas website.