[bsa_pro_ad_space id=4]
Atlas Numismatics Updates Their Fixed Price Offers in March 2023
Atlas Numismatics has updated their website with 460 new coins, medals, and tokens at fixed prices. Selections include the following items: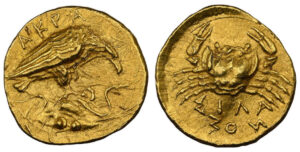 Pedigreed Dilitron (2 Litrai) of Acragas
No. 1073129: Greek. Sicily. Acragas (Agrigentum/Akragas). Struck circa 410-406 BC. Silanos AV Dilitron. NGC Ch. MS (Choice Mint State) Strike 5/5 Surface 5/5. 1.34gm. AKRA. Eagle right perched on rocks, clutches a serpent / ΣIΛA/ ΣOA (retrograde). Crab (Cancer). Rizzo Table. III, 8 (this coin); Westermark, Akragas 1015.4 (this coin). Superb and exceptional. Ex Pennisi di Floristella (noted on insert); Ex. Moretti Collexction; Ex- NAC 10, Zürich 1997, Lot 96. Rizzo (Monete Greche della Sicilia, Rome, 1946) plate coin. Price: $49,500.
Mint State Claudius Aureus
No. 1073824: Roman Republican. Claudius. (Emperor, 41-54 AD). Struck 41-42 AD. AV Aureus. NGC MS✭ (Mint State ✭) Strike 5/5 Surface 4/5. Rome. 7.72gm. TI CLAVD CAESAR AVG GERM P M TR P. Laureate head, right / EX S C/ OB CIVES/ SERVATOS. Legend on three lines within oak wreath (Corona Civica). BMC 16; Calicó 356 (this example plated); Cohen 34; RIC-15. Struck from the same dies as another exceptional example in an identical grade (Heritage World Coin Auctions, Dallas Signature Sale 3091, 6 May 2021, Lot 31039). Superb surfaces and portrait, highly lustrous. Ex Numismatic Fine Arts Auction 27 (New York, 1991) Lot 101. Price: $165,000.
Beautifully Toned Münster Medal
No. 1071791: German States. Münster. 1648 AR. PCGS MS62. 58mm. 36.15gm. PX/ HISBANO • BATAVIA. Pax radiant with cornucopia sitting in sun chariot pulled by crowned lions with scepter representing Spain and a bundle of arrows representing the Netherlands /Nine-line inscription; date below in Roman numerals. Goppel-680; Pax-96. Medallic issue struck to commemorate the Peace of Westphalia in 1648. Price: $3,450.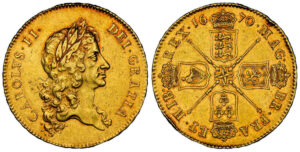 Charles II Five Guineas
No. 1073734: Great Britain. England. Charles II. (King, 1660-1714). 1670 AV Five Guineas. NGC AU53. Edge: VICESIMO SECVNDO. Laureate bust of Charles II right, pointed truncation / Crowned cruciform arms with scepters in angles, date divided at top. KM 430.1; SCBC-3328; Fr.-281. Ex Glendining & Co. Ltd (London), 8 July 1970, Lot 8. Includes old auction ticket. Price: $5,750.
Copper Capture of Bouchain Medal
No. 1071788: Great Britain. Anne. (Queen, 1702-1714). 1711 CU Medal. PCGS SP64BN (Brown). By J. Croker and S. Bull. Edge: Plain. 45mm. 42.5gm. ANNA · AVGVSTA ·. Laureate, draped, and mantled bust left / HOSTES · AD · DEDITIONEM · COACTI ·. French soldier kneeling right, surrendering sword, musket, and mural crown to female figure seated left upon globe, holding spear and oval shield inscribed FOR-/TVNA/MA-/NENS; military instruments around; fortifications of Bouchain in background; in three lines in exergue, VALLO · GALLORVM · SVPERATO ·/ET · BVCHEMIO · CAPTO ·/MDCCXI ·. Eimer 450; MI 385/237. French lines passed; Capture of Bouchain. Price: $895.
Cameo 1839 Proof Groat
No. 1071777: Great Britain. Victoria. (Queen, 1837-1901). 1839 AR Fourpence, Groat. NGC PR66 Cameo. By W. Wyon. Edge: Plain. VICTORIA D:G: BRITANNIAR REGINA F:D:. Head left / Britannia seated right. KM 731.2. Proof; SCBC-3913; ESC-3325 (Prev. ESC-1933A). Struck in coin alignment. Price: $2,650.
Superbly Toned Veiled Head Halfcrown of Victoria
No. 1073709: Great Britain. Victoria. (Queen, 1837-1901). 1901 AR Halfcrown. PCGS MS64. Edge: Reeded. Mature draped bust left / FID · DEF · IND · IMP · around top, HALF date CROWN below. Crowned and quartered spade shield within wreath. KM 782; SCBC-3938; ESC-2787 (Bull); Prev. ESC-735. Superbly toned. Price: $595.
Medallic Double Thaler of Overyssel
No. 1072107: Netherlands. Overyssel. Prince Mauritz Victory. (1597) ND AR Medallic Double Thaler (Landdagspenning). PCGS MS62. Edge: Plain. 56.76mm. 53.96gm. LIBERTATEM NEMO BONV NISI CVM ANIMA SIMVL AMISIT. Armored knight wearing plumed helmet, drawn sword in right hand on horse leaping right over a cityscape /ORDINVM TRANSISSVLANIAE INSIGNIAE . The coats of arms of the province of Overijssel and the cities of Deventer, Kampen and Zwolle at center surrounded by coats of arms of the 17 members of the Overijssel Council. cf. van Loon I, S. 494, 3. Struck to commemorate the province's secession from Spanish rule. Price: $6,750.
Updates to the Atlas online inventory are issued monthly.
For more information and to sign up for the firm's monthly newsletter, visit the Atlas website.