[bsa_pro_ad_space id=4]
Atlas Numismatics Updates Their Fixed Price Offers in April 2023
Atlas Numismatics has updated their website with 251 new coins, medals, and tokens at fixed prices. Selections include the following items:
Exceptional Maria Theresa Thaler
No. 1073880: Austria. Maria Theresa. 1765 AR Thaler. NGC MS64. Hall. M · THERESIA · D: G · R · IMP · GE · HU · BO · REG ·. Mature armored bust right / ARCHID · AUST · DUX · BU · COM · TYR ·. Crowned imperial double eagle with crowned arms on breast. KM 1799 (Prev. KM 746); Dav.-1122; Eypeltauer 74; Vogelhuber 281/IV. Price: $6,750.
Napoleon I Essai 5 Francs
No. 1067227: France. Premier Consul. (1799-1804). L'An XI (1802-1803)-A CU Essai 5 Francs. NGC MS63BN (Brown). By Droz. Paris. Edge: Plain. 37mm. 24.01gm. Head right, singed on truncation / Denomination within wreath. Mazard 536a. Price: $5,750.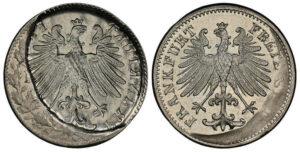 Unusual Brockage and Partial Collar Error
No. 1073022: German States. Frankfurt Am Main. (1846-1856) AR 3 Kreuzer. NGC MS67 Mint Error. 1.42gm. Crowned eagle with wings spread / Denomination and date within oak wreath. KM 313; AKS-23; Jaeger 24. Partial collar with obverse brockage. Insert misspells "collar" as "coolar"; hence a meta-error. Price: $1,150.
Lovely 1893 Proof Shilling
No. 1071311: Great Britain. Victoria. (Queen, 1837-1901). 1893 AR Shilling. NGC PR66 Cameo. By Thomas Brock & Edward Paynter (Rev.). Edge: Straight-grained. VICTORIA · DEI · GRA · BRITT · REGINA · FID · DEF · IND · IMP ·. Mature draped bust, left; T.B. below truncation / Crowned shields of England, Scotland and Ireland; crosses form the stops in the legend. KM 780. Proof; SCBC-3940; ESC-3155; Davies 1011 (Dies 1 A). Obverse Designer: Thomas Brock. Reverse Designer: Edward Paynter. Price: $2,950.
Gem Lombard Imitation in the Name of Maurice Tiberius
No. 1072991: Italy. Lombardy. Ticinum. In The Name Of Maurice Tiberius. (582-602).(568-690) ND AV Tremissis. NGC MS65. 1.36gm. Pearl-diademed, draped and cuirassed bust, right / (Legend); IONOI in exergue. Victory standing facing, holding globus cruciger in left hand and wreath in right. cf. Bernareggi 1. Price: $8,950.
1798 Draped Bust Dollar, Bowers Plate Coin
No. 1073922: United States of America. 1798 AR Dollar. PCGS AU55. U.S. Mint, Philadelphia. LIBERTY. Draped bust right, flanked by stars, date below / UNITED STATES OF AMERICA. Large heraldic eagle. KM 32. 13 arrows; BB-122; B-14. Rarity-3. Pointed 9, Wide Date. Q. David Bowers' plate coin for the variety in The Encyclopedia of United States Silver Dollars, 1794-1804 (2013); Ex Stack's Bowers & Ponterio (9 August, 2016) Lot 3162. Price: $12,500.
Updates to their online inventory are issued monthly.
For more information and to sign up for the firm's monthly newsletter, visit the Atlas website.