[bsa_pro_ad_space id=4]
Atlas Numismatics Updated Their Website 
Atlas Numismatics has updated their website with 516 new coins, medals, and tokens at fixed prices. Selections include the following items: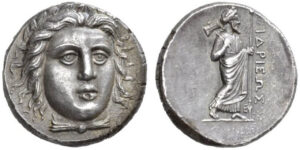 Attractive Caria Tetradrachm
1057355: Greek. Caria. Satraps of Caria. Hidrieus. (King, 351-344 BC). Struck circa 351-344 BC. AR Tetradrachm. NGC Ch. AU✭ (Choice About Uncirculated ✭) Strike 5/5 Surface 5/5. 15.24gm. Laureate head of Apollo facing three-quarters, right / IΔPIEΩΣ. Zeus Labraundus standing, right, holding double axe and spear; in lower middle field, "E". SNG von Aulock 8046; SNG Fitzwilliam 4746; Hurter, Pixodaros Hoard 46. Lovely cabinet patina; given the star designation by NGC for excpetional eye-appeal. Ex NFA X, 1981, 192; Christie's London 12 June 1993, McLendon, 53 and Gemini V, 2009, 630 sales. $5,950.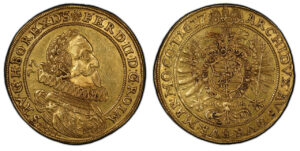 Lovely Breslau 5 Ducats
1056714: Austria. Ferdinand II. (Emperor, 1592-1618-1637). 1627 HR AV 5 Ducat. PCGS AU55. Breslau mint. 35mm. 17.33gm. FERD · II · D : G · ROIM – S · AV · G · H · BO · REX · D · S *. Laureate bust with ruffled collar facing right in inner circle; truncation reaches the rim / ARCHIDVX · AVS · DVX · BVR · MAR · MO · CO · T · 1627. Crowned imperial eagle in inner circle, composite arms of Hungary and Bohemia with Austria at center; tail feathers divides initials H – R. KM 658; Fr.-153; Herinek 98. Sharply struck and attractive, very rare. $58,500.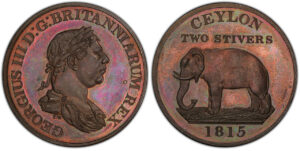 Gem Proof Two Stivers
1057362: Ceylon. George III. (King, 1760-1820). 1815 CU 2 Stivers. PCGS PR65BN (Brown). GEORGIUS III D: G: BRITAINNIARUM REX. Without rose below bust; signed T.W / CEYLON/ 2 STIVERS// (date). Elephant left, date below. KM 82.1. Milled Coinage. Attractively toned, very rare in this quality. $3,950.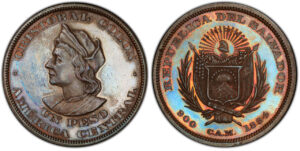 El Salvador Copper Pattern Peso
1056957: El Salvador. 1894 CU Pattern Peso. PCGS SP63BN (Brown). CRISTOBAL COLON • UN PESO/ AMERICA CENTRAL •. Bust, left / REPUBLICA DEL SALVADOR/ 900 – C.A.M. – 1894. Arms within wreath. KM Pn46. Patterns. KM#115.1; Prev. KM#Pn13. $3,450.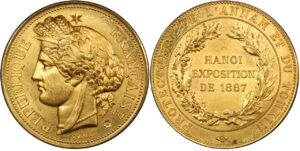 Hanoi Exposition Gold Medal
1056933: French Indo-China. 1887 AV Medal. PCGS SP63. By E.-A. Oudiné. 41.16mm. 56.65gm. REPUBLIQUE (star) FRANCAISE (flower). Head left, signed below truncation / PROTECTORATE DE L'ANNAM ET DU TONKIN *. Inscription within wreath, HANOI/ EXHIBITION/ DE 1887. For the first Hanoi Exposition (Exposition de Hanoi), a world's fair held between March-April, 1887. Very rare, more so in this quality.
PCGS insert notes "France" as country. $9,850.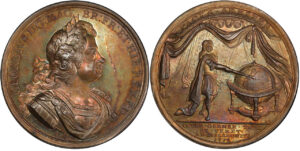 Superbly Toned Treaty of Passarowitz Medal
1056890: Great Britain. George I. (King, 1714-1727). 1718 AR Medal. PCGS SP64. By Croker. GEORGIVS · D : G : MAG : BR : FR : ET · HIB : REX · F : D :. Laureate, draped, and armored bust right. Eimer-479. Treaty of Passarowitz. Superbly toned, very rare in this quality. $3,950.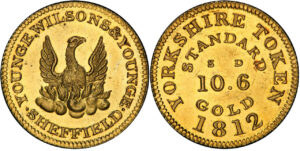 Rare Half-Guinea Token
1056477: Great Britain. Yorkshire, Sheffield. 1812 AV Younge, Wilson & Younge, Half-guinea token. PCGS PR62 Cameo. Edge: Engrailed. YOUNGE • WILSONS • & YOUNGE/ • SHEFFIELD •. Phoenix rising from the flames; toothed border / YORKSHIRE TOKEN/ 1812// STANDARD GOLD// (10s.6d. Legend in two circles around value; toothed border. Davis 37; Dalton 84. Superb mirrored surfaces, extremely rare in this quality. $16,500.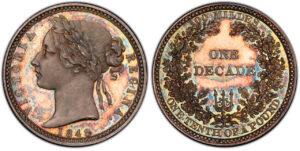 Beautiful Pattern Florin of Victoria
1057146: Great Britain. Victoria. (Queen, 1837-1901). 1848 AR Pattern Florin, Two Shillings. PCGS PR64+ Cameo. By William Wyon. 27mm. 11.23gm. VICTORIA REGINA. Laureate, young head, left; W.W. on truncation / 100 MILLES// ONE/ DECADE// ONE TENTH OF A POUND. Inscription within wreath; legends around. ESC-2940 (Prev. ESC-908). Superbly toned and conservatively graded. $11,500.
Updates to their online inventory are issued monthly.
Current and Upcoming Events
Atlas will be attending the following numismatic convention this Fall.
Please stop by our booth and say, Hello if you have a chance.
November 14-17, 2019
Hall A, B & C (Booth# 1244)
Baltimore Convention Center
One West Pratt Street
Baltimore, MD
The 65th Annual F.U.N. Convention
January 8-12, 2019 – Table #TBD
Orange County Convention Center
9800 International Drive
Orlando, Florida
The 48th New York International Numismatic Convention (NYINC)
January 16-19, 2019 – Table #800
Grand Hyatt Hotel
109 East 42nd Street, New York, NY
Located between Park and Lexington Avenues.
For more information and to sign up for the firm's monthly newsletter, visit the website of Atlas Numismatics.