[bsa_pro_ad_space id=4]
Atlas Numismatics Publishes their August Fixed-Price List
Atlas Numismatics has updated their website with 325 new coins, medals, and tokens at fixed prices. Selections include the following items:
Lustrous Edward VI Half-Sovereign
1059759: Great Britain. England. Edward VI (King, 1537-1553). (1551-53)-(Tun) AV Half-Sovereign. PCGS AU58. Half-length crowned bust, right; holding sceptre and orb /Crowned denomination divides E – R. SCBC-2451. Superb lustrous surfaces; struck on a broad planchet. In our opinion this piece is conservatively graded. $29,500
Choice 1712 Guinea
1059762: Great Britain. Anne (Queen, 1702-1714). 1712 AV Guinea. NGC MS63. ANNA · DEI · – GRATIA ·. Third bust left / MAG – BRI · FR – ET · HIB – REG ·. Crowned shields in cruciform, sceptres at angles. KM 534; SCBC-3574; Fr.-320. The finest graded example of the date at both NGC and PCGS as of August, 2020. Ex Terner Collection (Ira & Larry Goldberg, May 2003, Lot 150). Price upon request.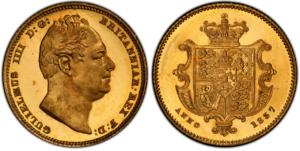 1837 Mule or Pattern Half-Sovereign
1059816: Great Britain. William IV (King, 1830-1837). 1837 AV Mule or Pattern Half-Sovereign. PCGS PR66 Cameo. 3.99gm. GULIELMUS IIII D:G: BRITANNIAR: REX F:D:. Head right. Struck with sixpence die (larger diameter planchet). / Crowned arms within cartouche. KM 722; SCBC-3831; WR-269 (R7, 1-2 known). Superb and exceptional, beautifully toned. Ex Terner Collection (Ira & Larry Goldberg, May 2003, Lot 300). Price upon request.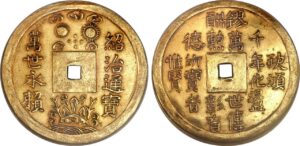 Annam Gold 5 Tien
1060683: Viet Nam. Thieu Tri. (1841-47) AV 5 Tien. NGC AU58. Thieu Tri Thong Bao, Van The Vinh Lai. / Phu Tho Da Nam. KM 341; Sch-279; Fr.-12. Extremely rare, more so in this quality. $49,500
Prooflike 1872 100 Lire
1061075: Italy. Vittorio Emanuele II. 1872-R AV 100 Lire. NGC MS64PL (Prooflike). By Ferraris. Rome. VITTORIO EMANUELE II. Bare head, left; signed below truncation / REGNO – D'ITALIA. Crowned shield of arms within wreath; denomination below. KM 19.2; Fr.-9; Bol.-R19; Gig.-2; Mont.- 127; Pag.-452. From a mintage of just 661 pieces. Sharply struck, lovely cabinet patina. Reflective prooflike surfaces (as noted by NGC). $115,000
Current and Upcoming Events
Atlas will be attending the following numismatic convention this Summer.
Please stop by our booth and say, Hello if you have a chance.
Whitman Winter Expo (Organizers are planning to reopen in November).
November 12-14, 2020
Baltimore Convention Center, Table #TBD
Baltimore, MD
Updates to the Atlas Numismatics online inventory are issued monthly. All issues from the fixed price list can be found here.
For more information and to sign up for the firm's monthly newsletter, visit the Atlas Numismatics website.