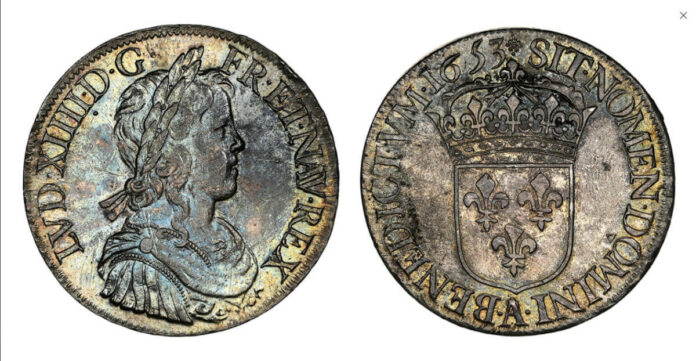 [bsa_pro_ad_space id=4]
Atlas Numismatics Updates Their Fixed Price Offers in July 2022
Atlas Numismatics has updated their website with 366 new coins, medals, and tokens at fixed prices. Selections include the following items:
Mint State Caracalla Aureus
No. 1069263: Roman Imperial. Caracalla. (Emperor, 198-217 AD). Struck 199-200 AD. AV Aureus. NGC MS (Mint State) Strike 5/5 Surface 4/5 Fine Style. Rome. 7.42gm. ANTONINVS – AVGVSTVS. Draped laureate bust, right / SEVERI – PI – I – AVG FIL. Emperor in military attire standing to left holding Victoria on globe with right hand holding a spear; captive seated to left. BMC 172 Anm.; Calicó 2818; Cohen 589; RIC 45. Ex Leu Auction 83, Zürich May 2002, Lot No. 791. Price: $44,500.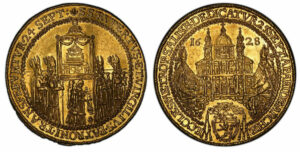 1628 Salzburg 10 Ducats
No. 1069325: Austrian States. Salzburg. Paris von Lodron. (Prince-Archbishop, 1619-1653). 1628 AV 10 Ducats. PCGS MS61. 34.73gm. ECCLES : METROP • SALISB : DEDICATVR 25 SEPT . APARIDE • ARCHIE :. Madonna above arms in inner circle / SS : RVPERTVS • ET . VIRGILIVS • PATRONI • TRANSFERVNTVR • 24 SEPT :. St. Rupert standing, arms below. KM 132; Friedberg 729; Zöttl 1251. Ex Mark and Lottie Salton Collection. Includes original collector's envelope. Price: $95,000.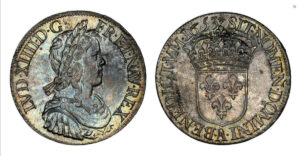 Attractive Louis XIV Ecu, Ex. Fernand David
No. 1068367: France. Louis XIV. (King, 1643-1715). 1653-A AR Ecu. NGC MS63. Paris. 27.31gm. Bust with long curl / Crowned shield of arms with three fleur de lis; mintmark below in legend. KM 155.1; Gadoury 202; Dav.-3799. Ex. Fernand David Collection. Price: $2,950
Superb Bavaria 5 Ducats
No. 1069308: German States. Bavaria. Maximilian I. (Elector of Bavaria, 1573-1651). 1640 AV 5 Ducats. PCGS MS63+. 17.31gm. MAXIMIL : COM : PAL : RH : VT : BA : DVX : S : R : I : ARCHIDAP : ET : ELECT. Standing portrait of Elector with sword in scabbard; his right hand rests on his scepter while his left hand reaches for a realm of apples that lies on a pedestal, upon the front of which is engraved the coat of arms / NISI : DOM : CVSTODIERIT : CIVIT : FRVST : VIGIL : QVI : CVSTODIT . City view of new fortifications of Munich, date at top; Madonna and child above. KM 268; Fr.-196; Witt.-807. Ex Mark and Lottie Salton Collection; Purchased in 1951 from R. Friedberg. Includes old provenance. Price: $97,500.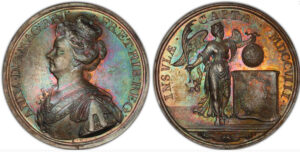 Queen Anne Capture of Lille Medal
No. 1067491: Great Britain. Anne. (Queen, 1702-1714). 1708 AR Medal. PCGS SP64. By J. Croker. 44.4mm. 56.5gm. ANNA. D: G: MAG: BRI: FR: ET. HIB: REG:. Crowned and draped bust left / INSVLÆ CAPTÆ. MDCCVIII,. Turreted victory holding the shield of Lille above a plan of the city walls. Eimer 435; Jones, Art of the Medal, 216; MI ii 338/169); van Loon V 119. Capture of the Citadel of Lille. Superbly toned. Price: $5,750.
Current and Upcoming Events
Atlas will be attending the following numismatic conventions. Please stop by and say hello if you have a chance:
16th-19th August 2022 – The 2022 Chicago World's Fair of Money – Table #1430. American Numismatic Association (ANA). Donald E. Stephens Convention Center. 5555 N. River Road, Rosemont, Illinois
Updates to the Atlas online inventory are issued monthly. For more information and to sign up for the firm's monthly newsletter, visit the Atlas website.