[bsa_pro_ad_space id=4]
Atlas Numismatics Updates Their Fixed Price Offers in February 2023
Atlas Numismatics has updated their website with 595 new coins, medals, and tokens at fixed prices. Selections include the following items: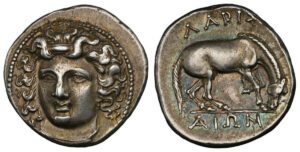 Attractively Toned Larissa Drachm
No. 1073132: Greek. Thessaly. Larissa. Struck 4th Century BC. AR Drachm. NGC Ch. XF✭ (Choice Extremely Fine ✭) Strike 5/5 Surface 4/5 Fine Style. 6.12gm. Head of the nymph Larissa facing slightly left with ampyx in her hair / ΛΑΡΙΣ / ΑΙΩΝ. Grazing horse to right. Herrmann cf. Table. V, 5; Lorber in SNR 79 Phase L-III; cf. BCD 316ff. Ex-Münzen & Medaillen Fixed Price List 420, Basel 1980, Nr. 10. Price: $5,950.
Maria Theresa Restrike 20 Ducats
No. 1073610: Austria. Maria Theresa. "1780" (c.1950) S•F• AV Restrike Taler (20 Ducat). PCGS MS62. Private Swiss mint. Edge: Plain. 73.45gm. Bust of Maria Theresa, right; signed S.G. below truncation / Imperial Eagle. KM-T2; Hafner II.: 77b. Krause reports this issue was struck for Haile Selassie (Emperor of Ethiopia, 1930-1974). From a mintage of just 200 pieces. Price: $11,500.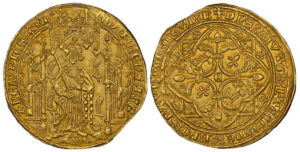 Edward The Black Prince Pavillon d'Or
No. 1073718: France. Aquitaine. Edward the Black Prince. (Prince of Aquitaine, 1362-1372).(1362-72) ND-B AV Pavillon d'Or (Noble Guyennois a I'E). NGC MS64. Bordeaux mint. 4.81gm. ЄD : PO : GnS : RЄGI AnGL : PnCS : AQI. Duke holding sword and standing under a gothic canopy with two lions at his feet and two ostrich plumes to either side / + DnS : AIVTO : Z : PTЄCIO : mЄ : Z : IIPO : SPAVIT : B. Foliate cross in quatrefoil over a quadrangle, E at center with two leopards and two lis in the angles. Duplessy 1120A; Friedberg 5. Ex. Fernand David Collection. Price: $26,950.
Gem 1848 Essai 5 Francs
No. 1070246: France. 2nd Republic. (1848-1852). 1848 Tin Essai 5 Francs. PCGS SP65. By Rogat. Paris. Edge: Plain. 17.30gm. Laureate head, left / Value within wreath. KM Pn65; Mazard 1297c/R. Price: $985.
Beautiful Tsingtau Medal
No. 1072144: Germany – Empire. Wilhelm II. (German Emperor, King of Prussia, 1888–1918). 1914 AR Medal. PCGS SP64. By A. Hummel. Edge: 990. 33.4mm. 15.09gm. Nude warrior holding a war flag and sword standing next to a fallen man lying on the ground / Six-line inscription within oak wreath. Zetzmann 4060. Struck to commemorate the heros of Siege of Tsingtau. Price: $1,495.
Queen Anne Five Guineas
No. 1073037: Great Britain. Anne. (Queen, 1702-1714). 1713 AV Five Guineas. NGC AU58. ANNA · DEI · – GRATIA ·. Last bust left / MAG – BRI · FR – ET · HIB – REG ·. Crowned shields in cruciform, sceptres at angles. KM 535; SCBC-3568; ESG-452 (Bull); Fr.-317. Lovely lustrous surfaces. Price: $125,000.
Druid's Head Penny Token
No. 1071829: Great Britain. Wales, Anglesey. 1787 CU Penny Token. PCGS MS64BN (Brown). Edge: ON DEMAND IN LONDON, LIVERPOOL OR ANGLESEY. Druid's head encircled by wreath, four acorns at tie / WE PROMISE TO PAY THE BEARER ONE PENNY •. PM CO Cypher. D&H 30 Thick wreath. Price: $349.
George III Pattern Sovereign
No. 1073038: Great Britain. George III. (King, 1760-1820). 1816 AV Pattern Sovereign. NGC PR64 Cameo. By Thomas Wyon Jr. after Pistrucci. London. Edge: Plain. 8.17gm. Large laureate bust / Crowned ornate square-top shield of arms. W&R-185 (R6, 3-5 examples known). Superb original surfaces, exceedingly rare. Reverse die cracks (as evident in Wilson & Rasmussen plates for W&R-185 and W&R-186). Price: $79,500.
Colorful Madagascar Dollar
No. 1073623: Madagascar. Ranavalona III. (Queen, 1883-1897). 1895 AR Dollar. PCGS PR62. RANAVALO MANJUKA 3. Crowned, veiled portrait of the Queen /RAMODOMAMDRIANIMPOINIMERINA (rose) MADAGASCAR (horse). Crowned heart over the petals of the Royal Poinciana (national flower)with large "R" dividing date. Lecompte 37 argent. Just 25 pieces minted. Ex-Heritage World Coin Auctions, CICF Signature Sale 3046, Auction 14 (April 2016), Lot number 30299 ($12,000). Price: $11,500.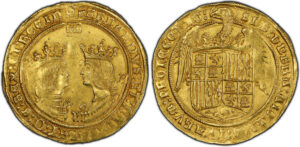 Mint State 4 Excelentes
No. 1072888: Spain. Ferdinand and Isabella. (King and Queen, 1475-1504). (1476-1516)-A (Aqueduct) AV 4 Excelentes. PCGS MS62. Segovia. 14.04gm. +FЄRnAnDuS: ЄT • hЄLISABЄT: D: G: RЄX: ЄT: RЄGInA:. Crowned facing busts of Ferdinand and Isabella, aqueduct above, A to right, annulet O over IIII below / SVB: VnBRA: ALARVm: TVARVm: PROTЄGЄ: nO:. Crowned royal shield over nimbate eagle. Calico 770; Fr.-125. Price: $115,000.
Updates to their online inventory are issued monthly.
For more information and to sign up for the firm's monthly newsletter, visit the Atlas website.