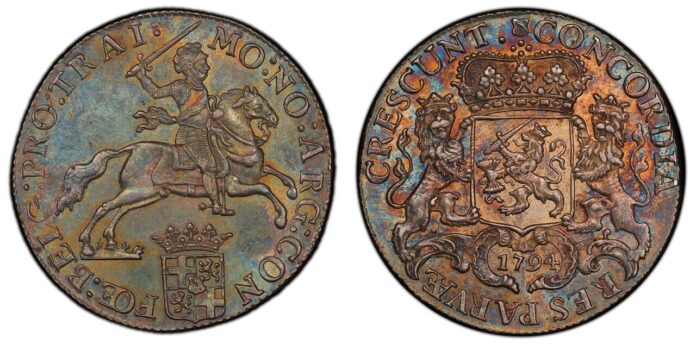 [bsa_pro_ad_space id=4]
Atlas Numismatics Update Their Fixed Price Offers in May
Atlas Numismatics has updated their website with 215 new coins, medals, and tokens at fixed prices. Selections include the following items:
Gem 1863 2 Rigsdaler
No. 1063587: Denmark. Christian IX. 2 Rigsdaler, 1863 HC-RH//FK. PCGS MS65+. Head right / Head right. KM 770; Dav.-78; Hede.-3; Sieg.-4. Frederik VII Death and Accession of Christian IX. Price: $3,450.
Coronation of Charles X
No. 1064252: France. Charles X (1824-1830). Medal, 1825. PCGS SP62. By E. Gatteaux. 50.9mm. 72.91gm. CAROLUS X REX – CHRISTIANISSIMUS. Crowned bust, right / REX CAROLVS COELESTI OLEO VNCTVS. Scene of the anointing of the king kneeling in prayer, right; standing archbishop, left; surrounded by seven Frenchmen. Sb.-89a; Collignon 456. Price: $1,750.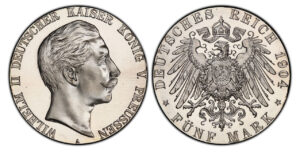 Superb Prussia Pattern 5 Mark
No. 1063049: German States. Prussia. Wilhelm II (1888-1918). 5 Mark 1904-A. PCGS SP67. Berlin. Edge: GOTT MIT UNS. WILHELM II DEUTSCHER KAISER KONIG V. PREUSSEN. Head right / DEUTSCHES REICH date, FUNF MARK below. Crowned imperial eagle, type III. KM 523; Schaaf 104/M7. Superb and exceptional, virtually flawless and very rare. Price: $22,500.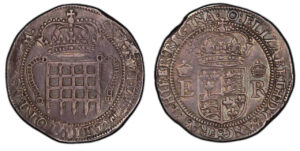 "Portcullis" 4 Testerns of Elizabeth I
No. 1063640: Great Britain. England. Elizabeth I (1533-1603). 4 Testerns, (1600-01)-O. PCGS VF35. Tower. 13.45gm. The Royal Arms / Crowned portcullis. SCBC-2607B; Prid.-2; Salv.-3. – The "Portcullis" issues of Elizabeth I were struck to compete with the circulating denominations of the Spanish Colonial empire and as such were produced in denominations of 1, 2, 4, and 8 Testerns. The "Company of Merchants of London Trading into the East Indies" (later the "East India Company") failed to popularize the issues and they survived in very small numbers. Attractive cabinet patina and sharply struck; minor natural die cud at 2 o'clock on obverse. Price: $18,500.
Pure Silver 1847 Gothic Crown
No. 106788: Great Britain. Victoria (1837-1901). Gothic Crown, 1847. (Pure Silver, .999 Fine) PCGS PR63DCAM (Deep Cameo). Royal mint. Edge: Plain. VICTORIA DEI GRATIA BRITANNIAR. REG: F:D. Crowned bust left / TUEATUR UNITA DEUS, ANNO DOM MDCCCXLVII. Crowned shields of England, Scotland and Ireland in cross formation with flowers at corners. KM 744; SCBC-3883; ESC-2578a (N/ Invert N PE), R-4; Dav.-106. – The Gothic Crown is considered one of the most beautiful coin types of British coinage. Struck in pure silver (.999 Fine). Lightly toned and attractive, a very rare type. Price: $58,500.
Exceptional Leopold "the Hogmouth" 1/2 Thaler
No. 1064292: Hungary. Leopold I. 1/2 Thaler, 1701-KB. NGC MS65. Kremnitz. LEOPOLD: – D: G: R: I: S: A: GER: – HV: BO: REX:. Armored bust right / ARCHID: AV: DVX: BV: MAR: MOR: … Crowned arms within Order chain on eagle's breast. KM 251. Price: $2,250.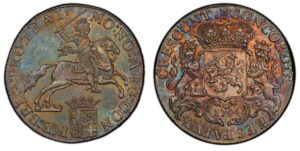 Attractively Toned Ducaton or Rider
No. 1064312: Netherlands. Utrecht. Ducaton, 60 Stuiver – Silver Rider, 1794. PCGS MS62. Edge: Cabled. MO : NO : ARG : CON FOE : BELG : PRO : TRAI ·. Armored knight on horse above crowned shield / CONCORDIA RES PARVÆ CRESCUNT ·. Crowned arms of Utrecht with supporters, date below. KM 92.1; Dav.-1832; Delm.-1031; P&W 59. Attractively toned. Price: $4,450.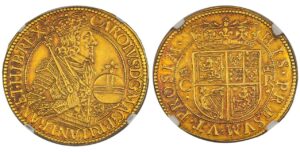 Charles I Scotland Unit or Unite
No. 1064271: Scotland. Charles I (1660-1685). Unit or Unite (1637-42). NGC AU58. By Nicholas Briot. 9.93gm. CAROLVS • DD G• MAG • BRITAN • FRAN • ET • HIB • REX (thistle) •B•. Fine style crowned 1/2-length figure of Charles right with scepter and orb, thistle and B after legend / HIS • PRAESVM • VT • PROSIM •. Crowned arms. KM 57; S-5531 (cf. similar to S-5527), thistle and B after legend. Price: $17,500.
Current and Upcoming Events
Atlas will be attending the following numismatic convention this Summer. Stop by their booth and say, hello if you have a chance.
ANA 2021 Chicago World's Fair of Money. 10th-14th August 2021. Donald E. Stephens Convention Center, Rosemont (Chicago), IL.
Updates to their online inventory are issued monthly.
For more information and to sign up for the firm's monthly newsletter, visit the Atlas website.