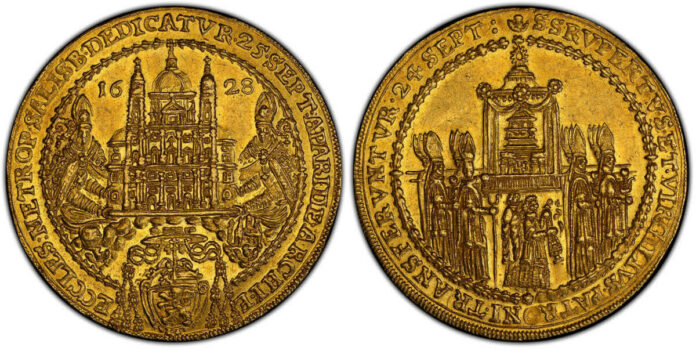 [bsa_pro_ad_space id=4]
Atlas Numismatics Updates Their Fixed Price Offers in December
Atlas Numismatics has updated their website with 319 new coins, medals, and tokens at fixed prices. Selections include the following items: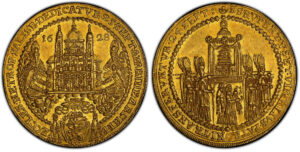 Mint State Salzburg 4 Ducats
No. 1065817: Austrian States. Salzburg. Paris von Lodron. (1619-1653). AV 4 Ducats, 1628. PCGS MS61. Façade of the cathedral of St. Rupert and Virgilius held between the two saints enthroned in heaven; Cappello romano and the archbishops crest, below / Reliquary of the saints carried by eight bishops; legend around. Dedication of the Salzburg Cathedral. Superb strike and luster. Price: $33,500.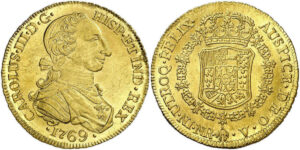 1769 Colombia 8 Escudos
No. 1065949: Colombia. Charles III. (1759-1788). AV 8 Escudos, 1769-NR V. NGC MS62. Nuevo Reino, Bogota. CAROLUS · III · D · G · HISP · ET IND · REX. Uniformed bust right / IN · UTROQ · FELIX · AUSPICE · DEO ·. Arms within Order chain. Highly lustrous and sharply struck; some minor adjustment marks and hairlines are evident. Price: $24,500.
Silver German New Guinea Set
No. 1065638: German New Guinea. AR Four Piece Silver Proof Set (5 Mark through 1/2 Mark) 1894-A. PCGS PR66-MS64. Berlin. Denomination and date in palm wreath / Bird of Paradise. Grades as follows: PCGS PR64 (5 Mark); PCGS PR65 (2 Mark); PCGS MS64 (Mark); PCGS PR66 (1/2 Mark) A superb matched set, but missing the copper denominations. The 1 Mark piece is a curious piece and was originally certified as a proof by PCGS but was later determined to be a mint state example. It displays prooflike obverse surfaces and raised rims but satiny reverse surfaces. The toning on the 1 mark matches the other silver and it was possibly included in the set by a Berlin mint employee in error.
Includes original case for the seven-coin set. Price: $62,500.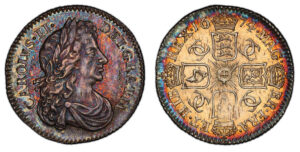 Lovely Charles II Sixpence
No. 1065389: Great Britain. England. Charles II. (1660-1685). AR Sixpence, 1674. PCGS MS63. Bust of Charles II right / Standard crowned cruciform shields, as the crown Star of the Garter in the center and interlinked C's in the angles. Four strings in harp. Sharply struck and superbly toned. Price: $2,250.
Gem Off-Center Victoria Sovereign
No. 1065823: Great Britain. Victoria. (1837-1901). AV Sovereign, 1863. NGC MS66 Mint Error. VICTORIA DEI GRATIA. Head left / BRITANNIARUM REGINA FID: DEF:. Without die number. Mint error; Struck 50% off-center. Superb satiny gem; exceedingly rare. Housed in an old NGC holder. Price: $67,500.
1720 Mint State Peru Cob 8 Escudos
No. 1065738: Peru. Philip V. AV 8 Escudos, 1720-L M. PCGS MS62. Lima. Pillars and waves / Cross with lions and castles in angles; ANO and date in legend. The finest certified example of the date at both NGC and PCGS as of December 2021. Price: $17,500.
Current and Upcoming Events
Atlas will be attending the following numismatic convention in January 2022:
Please stop by our booth and say Hello if you have a chance.
Updates to their online inventory are issued monthly.
For more information and to sign up for the firm's monthly newsletter, visit the Atlas website.