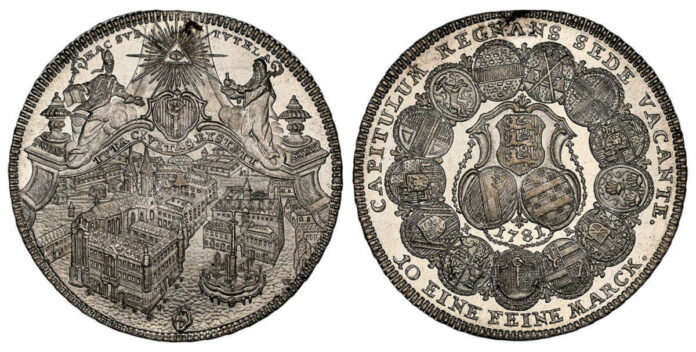 [bsa_pro_ad_space id=4]
Atlas Numismatics Updates Their Fixed Price Offers in December 2022
Atlas Numismatics has updated their website with 591 new coins, medals, and tokens at fixed prices. Selections include the following items: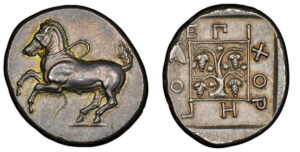 Fine Style Maroneia Stater
No. 1071600: Greek. Kingdom of Thrace. Maroneia. Struck circa 380 BC. AR Stater. NGC Ch. AU✭ (Choice About Uncirculated ✭) Strike 4/5 Surface 4/5 Fine Style. 11.33gm. Rearing horse, left / EΠI XOPHΓO. Arbour with four bunches of grapes within square; bee in left field. Schönert-Geiss 451. Ex LHS Numismatik AG, Auction 103 (5 May 2009) Lot 62. Price: $12,500.
Beautifully Toned Bolivia 1/2 Real
No. 1071581: Bolivia. Ferdinand VII. 1825-PTS JL AR 1/2 Real. PCGS MS65. Potosi. FERDIN · VII · DEI · GRATIA ·. Bust right / Crowned arms between pillars. KM 90. Price: $795.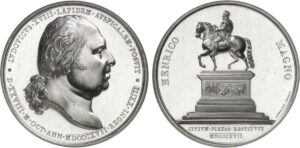 Impressive Platinum Medal of Louis XVIII
No. 1072930: France. Louis XVIII. (King, 1815-1824). 1817 Platinum Medal of 45 Ducats Weight. NGC MS65. By Andrieu. 151.7gm. LVDOVICS · XVIII · LAPIDEM · AVSPICALEM · POSVIT * D · XXVIII · M · OCT · ANN · MDCCCXVII · REGNI · XXIII. Bust, right; hair tied in ribbon / HENRICO – MAGNO// CIVIVM · PIETAS · RESTITVT/ MDCCCXVII. Equestrian statue of Henri IV, left; date in exergue. Collignon 105. Restoration of the Statue of Henri IV, dated in Roman numerals, 28 October 1817. Exceedingly rare in platinum. Deeply prooflike fields and frosted devices. Ex Eugene J. Detmer Collection, Stack's, New York (February 2-4, 1983) Lot 354. Includes old auction ticket. Housed in an oversized holder. Price: $85,000.
Silver Bamberg Ducat
No. 1072104: German States. Bamberg. Franz Ludwig of Erthal. (1779-1795). 1779 G AR Pattern or Off-Metal Ducat. PCGS SP65. 2.66gm. Bust, right divides legend; three-lines in exergue / Pyramid with inscription to left; seated figure with shield of arms at right. cf. KM 135 (in gold); Krug 423.01; Fr.-173 (in gold). Off-Metal strike in silver of the Nurnberg ducat in honor of the city of Bamberg. Price: $1,650.
Prooflike Gem Eichstatt Thaler
No. 1071191: German States. Eichstatt. 1781 KR/OE AR Thaler. NGC MS66PL (Prooflike). CAPITULUM REGNANS SEDE VACANTE., 10 EINE FEINE MARCK. below. 13 oval arms form circle with 3 shields of arms and date within ornate frame at center / HAC SUB TUTELA. City view. KM 90; Dav.-2210. One of the most interesting perspectives of all the city-view thaler types, an intricate bird's eye view. Sede Vacante issue. Ex Wolff-Metternich Collection. Price: $22,500.
Lovely 1826 Proof Sovereign
No. 1071282: Great Britain. George IV. (King, 1820-1830). 1826 AV Sovereign. NGC PR65UCAM (Ultra Cameo). GEORGIUS IV DEI GRATIA. Head left / BRITANNIARUM REX FID: DEF:. Crowned arms within cartouche. KM 696. Proof; SCBC-3801; W&R 237. Obverse legend is missing left serif to R in GEORGIUS. Price: $33,500.
Livorno Pezza d'Oro della Rosa
No. 1071973: Italian States. Livorno. Cosimo III de' Medici. (1670-1723). 1718 AV Pezza d'Oro della Rosa or Doppia. NGC MS62. 24mm. 6.94gm. COSMVS · III · D · G · M · DVX…. Crowned arms of Medici / GRATIA · OBVIA · VLTIO…. Rosebush. KM 40; Fr.-466; MIR 69/2. Price: $14,500.
Exceptional Leopold I Transylvania Ducat
No. 1071929: Transylvania. Leopold I. (Holy Roman Emperor, 1657-1705). 1696-KV AV Ducat. NGC MS65. Klausenburg (Kolozsvár). 3.45gm. LEOPOLD. D. G. R. I. S. A. GER. HV. BO. Rx. Laureate armored bust, right; head divides legend above / DVCAT. NOV. (K V) TRANSYLV:. Crowned imperial eagle with Transylvania arms on breast; crown divides date in legend. KM 509; Fr.-495; CNA 91-g-5; Huszar 1995, 850; Her. 408. Superb sharply struck gem; extremely rare in this quality. Price: $29,500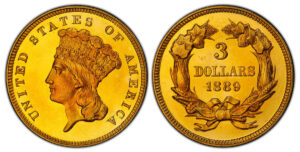 Deep Cameo Proof Three Dollars
No. 1071107 | United States of America. 1889 AV 3 Dollars. PCGS PR65DCAM (Deep Cameo). U.S. Mint, Philadelphia. UNITED STATES OF AMERICA. Indian head with headdress, left / Value, date within wreath. KM 84. From a reported mintage of just 129 pieces. Superb original surfaces. Price: $52,500
Updates to their online inventory are issued monthly.
For more information and to sign up for the firm's monthly newsletter, visit the Atlas website.