[bsa_pro_ad_space id=4]
Atlas Numismatics Publishes their Newest Fixed-Price List
Atlas Numismatics has updated their website with 989 new coins, medals, and tokens at fixed prices. Selections include the following items: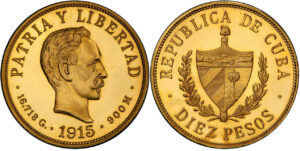 Gem Proof 1915 Cuba 10 Pesos
1058261: Cuba. Jose Marti. (First Republic, 1902-1962). 1915-(P) AV 10 Pesos. PCGS PR65 Cameo. By Charles E. Barber. U.S. Mint, Philadelphia. Edge: CON TODOS Y PARA TODOS. National arms within wreath, denomination below / Head right, date below. KM 20; Fr.-3.
20 pieces minted. Dies engraved and prepared by Charles E. Barber. Struck at the Philadelphia Mint, to the same weight standards and fineness of contemporary United States gold coins. $33,500.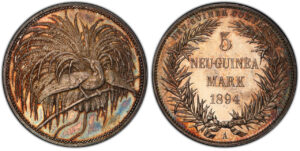 Proof Bird-of-Paradise 5 Marks
1058476: German New Guinea. 1894-A AR 5 Mark. PCGS PR64. Berlin. Denomination and date in palm wreath / Bird of Paradise. KM 7; Dav.-429; Jaeger 707.
Attractively toned. $26,500.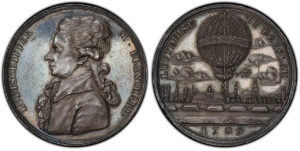 Breslau Ballooning Medal
1059012: German States. Breslau. 1789 AR Ballooning Medal. PCGS MS62. LUFTSCHIFFER – M. BLANCHARD. Portrait, left / LUFTREISE – ZU BRESLAU// (date). Hot-air balloon among clouds over the city of Breslau. Kiaiser 11.1.
Commemorative medal struck for the 35th journey of J. P. Blanchard and his air balloon, which took place in the skies above Wroclaw (Breslau). $950.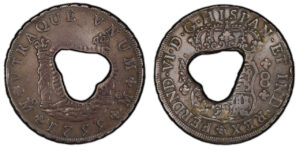 Gibraltar Dollar of 10 Bitts, Ex-Norweb
1058254: Gibraltar. (1770-1773) AR Dollar of 10 Bitts. PCGS XF45. 22.64gm. C-20; Pridmore 16 Type IV.
Historically cataloged under Martinique, it is now believed that these pieces were actually cut in Gibraltar and then possibly exported to the Caribbean for use in Martinique or Dominica. Heart-shaped piercing with a patterned border on the cut edges. Host coin: Mexican 1755-MM 8 Reales Mexico City. Ex Norweb Collection, Christie's Dallas Auction, 17 May 1985, Lot 750. PCGS notes the country as "Dominica". $8,950.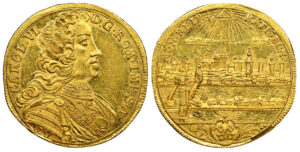 Very Rare Regensburg City View Ducat
1057551: German States. Regensburg. 1737 AV Ducat. NGC MS62. 23mm. 3.49gm. CAROL · VI · – D · G · ROM · IMP · S · A ·. Bust of Karl V right / City view. KM 289; Friedberg 2504; Beckenbauer 442. Mintage of 16 pieces. $13,950.
Current and Upcoming Events
Atlas will be attending the following numismatic convention this sommer:
The 2020 Pittsburgh World's Fair of Money– Table #TBD
August 4-8, 2019
American Numismatic Association (ANA)
The David L. Lawrence Convention Center
1000 Fort Duquesne Blvd, Pittsburgh, PA 15222
 For more information and to sign up for the firm's monthly newsletter, visit the website of Atlas Numismatics. Updates to their online inventory are issued monthly.