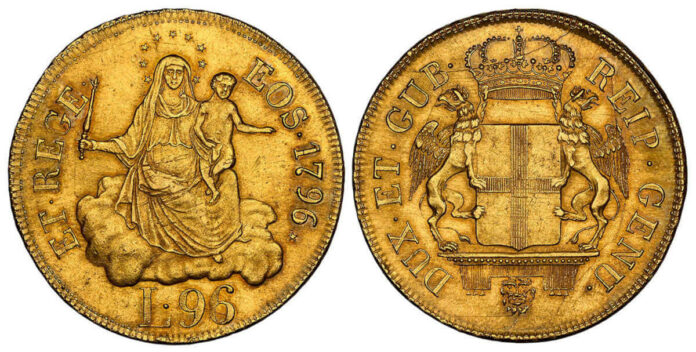 [bsa_pro_ad_space id=4]
Atlas Numismatics Updates Their Fixed Price Offers for Spring 2023
Atlas Numismatics has updated their website with 133 new coins, medals, and tokens at fixed prices. Selections include the following items: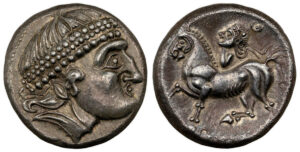 Celtic Tetradrachm of Exceptional Style
No. 1074231: Celtic. Celts of Eastern Europe. Burgenland-Slovak Tribes. Circa 2nd century BC. AR Tetradrachm. NGC Ch. AU✭ (Choice About Uncirculated ✭) Strike 5/5 Surface 5/5 Fine Style. 22mm. 12.37gm. Beardless male head right, with "broken" nose and pronounced jaw line, wearing diadem composed of triple-beaded strand / Rider emerging from back of horse trotting left, hair bound with diadem and tied into a topknot with three trailing curls. Lanz 743-5; OTA 469; CCCBM I 152-4. "Kroisbach-Reiterstumpf" type, imitating types of Philip II of Macedon. Superb eye-appeal and lovely cabinet patina. Ex. Heritage Auctions, Auction 3049 Long Beach (8 September 2016), lot 30004. Price: $6,750.
City View of Orléans, France
No. 1073720: France. Louis XV. (King, 1715-1774). 1739 AR Jeton. PCGS MS62. Edge: Reeded. 31mm. 9.60gm. POVR LA COMP • D • MARCH • FREQ • LA • R • D • LOIRE// • LIGERIS • (date). Reclining river god; crossed anchors above; date in exergue / EX • LIBERTATE • COMERCII • UBERTAS •// • AVRELIA •. City view with boats in the foreground along the river Loire, Orléans. Feuardent 8177. For the Orléanais merchants of the Loire, Paris. Price: $675.
Gem Johann Georg I 1/4 Thaler from the Virgil Brand Collection
No. 1073813: German States. Saxony-Albertine. Johann Georg I. 1629 HI AR 1/4 Thaler. PCGS MS65. Bust right with sword on shoulder / 3-fold arms, date at top. KM 407; Kohl 166. Ex. Virgil Brand Collection, Part 5 (Leu Numismatik Auction 70, October 1997, Lot 7325). Price: $1,695.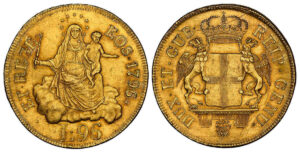 Choice 96 Lire of Genoa
No. 1073494: Italian States. Genoa. Government of the Biennial Doges. (1528-1797). 1796 AV 96 Lire. NGC MS63. DUX · ET · GUB REIP · GENU ·. Crowned arms with supporters on mantle above lion head / ET · REGE · EOS ·. Madonna and child above value. KM 251; MIR 275/4. Price: $8,950.
Waitangi Proof Set
No. 1074024: New Zealand. George V. 1935 AR Six Piece Proof Set (Threepence – Crown). PCGS PR65. Crowned bust left / Crown above standing figures shaking hands (Crown); Crowned arms (Half Crown); Kiwi bird, left (Florin); Crouching Maori warrior, left (Shilling); Huia bird sitting on branch, right (Sixpence); Crossed patu (Threepence). KM-PS3 (KM 1 to KM 6). Treaty of Waitangi in 1840. 364 Proofs were issued in sets, 104 were issued loose. Grades as follows: PCGS PR65 (Crown); PCGS PR66 Halfcrown); PCGS PR67 (Florin); PCGS PR66 (Shilling); PCGS PR65 (Sixpence); PCGS PR66 (Threepence). Price: $14,500.
Updates to their online inventory are issued monthly.
For more information and to sign up for the firm's monthly newsletter, visit the Atlas website.