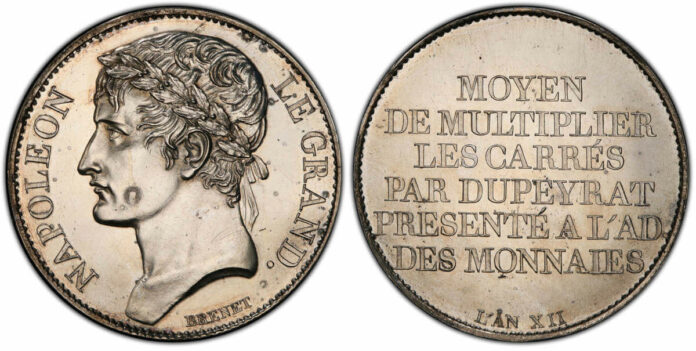 [bsa_pro_ad_space id=4]
Atlas Numismatics: Fixed Price Offers in September
Atlas Numismatics has updated their website with 396 new coins, medals, and tokens at fixed prices. Selections include the following items: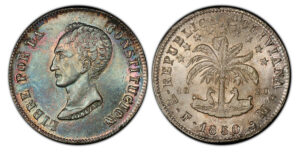 Superb Bolivia 8 Soles
No. 1064947: Bolivia. 1850-PTS FM AR 8 Soles. PCGS MS64. Without value / Bare head left. Superbly toned and highly lustrous; in our opinion this piece is conservatively graded. Currently the finest certified example at PCGS as of July 2021. Price: $5,750.
Frederick V of Denmark Gold Medal
No. 1064668: Denmark. Frederick V. King of Denmark and Norway (1746-1766). AV Medal of 12 Ducat Weight. ND (1758). PCGS SP63. By M. Arbien (Obv.) and S. Jacobsen (Rev.). Edge: Plain. FRIDERICVS V D•G•REX DAN•NORV•VAN•GOTH•. Bust, right; singed below truncation / CONANTI// ACADEMIA REG • ARTUM/ ELEGANTIORUM •. Standing cherub among implements of the fine arts, holding a wreath above a column without inscription. Struck for the Academy of Fine Arts. Superb eye-appeal; a few minor edge marks (not visible in holder). Price: $8,500.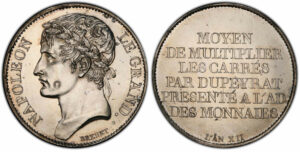 Napoleon I Essai 5 Francs, Ex-King Farouk of Egypt
No. 1064492: France. Napoleon I. (First Empire, 1804-1814). AR Medallic Essai 5 Francs. L'An XII (1803). PCGS SP61. By Nicolas-Guy-Antoine Brenet and Jean-Baptiste-Barthélemy Dupeyrat. Paris. Edge: Plain. NAPOLEON LE GRAND. Bust left / MOYEN DE MULTIPLIER LES CARRÉS PAR DUPEYRAT PRESENTÉ A L'AD. MONNAIES . Inscription. In 1804 Dupeyrat experimented at the Paris mint with machinery to copy (multiply) dies; this type represents his sample for the process. Exceedingly rare. Ex. King Farouk Collection (Sotheby's March 1954, Lot 2178 [part]); Ex- Vinchon (Paris) July 10, 2003 Lot 15. Price: $16,500.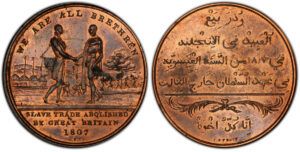 Lustrous Sierra Leone Macaulay and Babbington Penny Token
No. 1064868: Sierra Leone. Macaulay and Babbington. GFP Bronze Penny. "1807" (1814) PCGS MS64RB (Red-Brown). By G.F. Pidgeon. Soho Mint. Edge: Plain. WE ARE ALL BRETHREN / SLAVE TRADE ABOLISHED / BY GREAT BRITAIN / 1807. Two men clasping hands / Similar in Arabic. Arabic text; signed below, J.P. FECIT. Rare in this quality. Price: $1,395.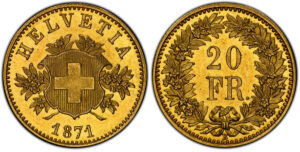 Switzerland Pattern 20 Francs
No. 1065015: Switzerland. AV Pattern 20 Francs. 1871-B. PCGS SP64. Edge: Reeded. Shield within sprigs, date below / Value within wreath. From a reported mintage of just 25-30 pieces. Price: $28,500.
Updates to the online inventory of Atlas Numismatics are issued monthly.
For more information and to sign up for the firm's monthly newsletter, visit the Atlas website.