[bsa_pro_ad_space id=4]
Atlas Numismatics Update Their Fixed Price Offers in October 2022
Atlas Numismatics has updated their website with 513 new coins, medals, and tokens at fixed prices. Selections include the following items: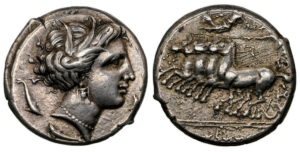 Siculo-Punic Tetradrachm with 1914 Pedigree
No. 1070106: Greek. Sicily. Siculo-Punic Coinage. Struck circa 350-300 BC. AR Tetradrachm. NGC XF (Extremely Fine) Strike 4/5 Surface 5/5. 17.17gm. Charioteer driving racing quadriga left, horses arrayed in ascending tiers; Nike flying right above to crown charioteer, Punic [RŠMLQRT] in exergue / Head of Tanit-Kore-Persephone right, wearing tripe pendant earring and necklace; three dolphins swimming around. Jenkins, CPS I, 68, 60. "RShMLQRT" issue. Ex Feuardent Freres, Paris (05/1914) Lot 157. Price: $14,500.
Alexander Distater
No. 1070108: Greek. Kingdom of Macedon. Alexander III, "the Great". (King, 336-323 BC). Struck circa 330-320 BC. AV Distater. NGC Ch. VF✭ (Choice Very Fine ✭) Strike 5/5 Surface 5/5. Amphipolis mint. 17.16gm. Head of Athena right, wearing crested Corinthian helmet decorated with serpent, single-pendant earring, and two necklaces / AΛEΞANΔPOY. Nike standing left, holding wreath in extended right hand and cradling stylis in left arm; cantharus to the left. Gulbenkian II, 108, 840; Price 107, 167. Lifetime-early posthumous. Price: $85,000.
Julius Popper Tierra del Fuego Gramo
No. 1070843: Argentina. Tierra Del Fuego. 1889 AV Gramo. PCGS MS65. Issued by Julius Popper, Buenos Aires. Buenos Aires mint. POPPER divides shaded circle / Pick axe and sledge hammer within shaded circle. KM Tn5; Friedberg 2; Janson-7. Second Buenos Aires die with large letters on obverse and reverse. Produced by Julius Popper, a Jewish Romanian-born Argentine adventurer referred to as a "modern conquistador.". Ex Dr. Lawrence A. Adams Collection. Price: $6,950.
Lustrous German New Guinea 10 Pfennig
No. 1067245: German New Guinea. 1894-A CU 10 Pfennig. PCGS MS64RB (Red-Brown). Berlin. Denomination and date in palm wreath / Bird of Paradise. KM 3; Jaeger 703. Highly lustrous. Price: $775.
Silver "Red Baron" Medal
No. 1069815: Germany – Empire. 1918 AR Medal. PCGS SP63. By Karl Goetz. Edge: "BAYER.HAUPTMÜNZAMT.FEINSILBER.". 36.8mm. 19.58 gm. Uniformed portrait slightly to left / Eagle with raised head next to memorial stone, family coat of arms and decorated helmet to right. Kaiser 838; Kienast 288; Zetzmann 6039. On the death of Manfred von Richthofen, the "Red Baron". Price: $595.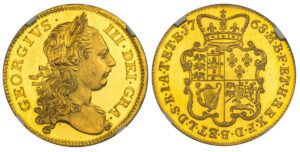 1768 Pattern Two Guineas
No. 1069703: Great Britain. George III. (King, 1760-1820). 1768 AV Pattern 2 Guineas. NGC PR65✭ Cameo. By John Tanner. London. Edge: Plain. 16.72gm. GEORGIVS • – III • DEI • GRA •. Laureate bust, right / M•B•F•ET•H•REX•F•D•B•ET•L•D•S•R•I•A•T•ET•E • 17 – 68 •. Crowned ornate quartered shield of arms. SCBC-3724; W&R 79 (R4); EGC 667 (Bull); Fr.-351. Medal alignment (En Medaille). Unlike singular Guinea coins, pattern Two Guineas and Five Guineas pieces of George III are of the greatest rarity. Pattern Two Guineas were produced in 1768, 1773 and 1777. The 1768 pattern stands as the first attempt to produce a higher-value gold denomination during the reign of George III, and the quality of its engraving is considerably finer than the later two dated patterns. The first pattern Five Guineas didn't appear for another two years. Attempts to strike these larger denominations for circulation however never amounted to widespread production as gold coinage saw a major shift downwards in response to the overvaluation of British gold coinage in the 18th century. As a result gold coins were confined to limited domestic usage mainly among the well-to-do. The smaller more manageable single Guinea denomination and its fractions were more common for day-to-day needs than were the larger pieces. This is furthermore reinforced by the introduction of the Third Guinea in 1797 that was until then an unknown fractional denomination. John (Johann Sigismund) Tanner (b.1705 – d.1775) was a native of Saxe-Coburg, who worked for the majority of his career as an engraver for the Royal Mint at the Tower of London. He became the mint's Chief Engraver in 1741 upon the death of John Croker and remained at his position until his own passing in March, 1775. Tanner was also well known for the design of a sixpence during the reign of King George II, which was popularly known as the "tanner". Price: $395,000.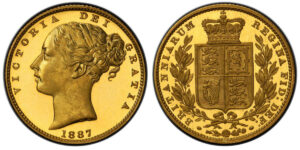 1887 Young Head Pattern Sovereign
No. 1069445: Great Britain. Victoria. (Queen, 1837-1901). 1887 AV Pattern Sovereign. PCGS PR67 DCAM. By William Wyon (Obv.) & Jean-Baptiste Merlen (Rev.). Edge: Straight grained. VICTORIA DEI GRATIA. Young head to left, hair bound by two plain fillets, WW raised on truncation, date below / BRITANNIARUM REGINA FID: DEF:. Crowned square topped shield within laurel branches emblem of rose, thistle and shamrock below, between two small roses. KM 767; WR 331 Plate Coin (R5 – 6 to 10 known). Superb and exceptional; a virtually flawless example of this exceedingly rare young head pattern sovereign and the Wilson and Rasmussen plate coin. Price: $165,000.
Unique Elizabeth II Die Trial
No. 1068862: Great Britain. Elizabeth II. (Queen, 1952-2022). 2021 AV Five Sovereign Die Trial Piece. NGC PR70 UCAM (Ultra Cameo). By Jody Clark (Obv.). The Royal Mint. Edge: Reeded. 36.02mm. 39.94gm. Crowned bust, right / St. George and dragon; plus a unique (crown) privy mark used for one year only. The largest coin in The Sovereign 2021 Collection and struck in 22 carat fine gold, the Five-Sovereign Piece for 2021 was not available to purchase individually when originally released. The obverse carries the ROYAL MINT TRIAL stamp as well as production hallmarks in the fields. Includes original case and Certificate of Authenticity No. 1. This is a Limited Edition Presentation of 1. Price: $19,500.
Attractively Toned Mexico Pillar 2 Reales
No. 1069723: Mexico. Charles III. 1761-Mo M AR 2 Reales. PCGS MS63. Mexico City. CAR · III · D · G · HISP · ET IND · R. Crowned shield flanked by R 2 / VTRA QUE VNUM. Crowned globes flanked by crowned pillars with banner, date below. KM 87; Calico 643. Price: $5,500.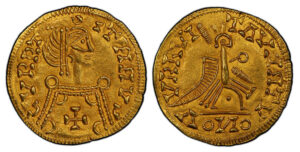 Superb Leovigild Tremissis
No. 1069743: Spain. Visigothic. Leovigild. (King, 569-586). (573-578) ND AV Tremissis. PCGS MS64. 1.23gm. ICVRRT- ITRRS. Draped and diademed bust, right; cross on the breast / VVRRVI-TAVRRTV. Victory advancing right with palm branch and wreath; in exergue ONO. M.E.C. I 207 variant; Chaves 81 variant; Tomasini 573574 variant (Group C3). Imitation after the Roman Emperor Justin. Possibly struck at Toledo mint. Superb and exceptional. Price: $13,500.
Updates to their online inventory are issued monthly.
For more information and to sign up for the firm's monthly newsletter, visit the Atlas website.