[bsa_pro_ad_space id=4]
Atlas Numismatics Publish Their September Fixed-Price List
Atlas Numismatics has updated their website with 425 new coins, medals, and tokens at fixed prices. Selections include the following items:
Exceptional Chile 8 Escudos
1061308: Chile. 1817/8-So FJ AV 8 Escudos. NGC MS64. Santiago. FERDIN VII… Laureate military bust right / Crowned arms in Order chain. KM 78; Fr.-29; Cal-Type 26 #127; Cayon 15587.
Milled Coinage. For exclusive use in Chile. Full frosty luster, some mint-made imperfections. Extremely rare in this quality. $10,500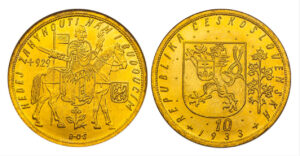 Finest Certified 1933 Czech 10 Ducats
1061203: Czechoslovakia. Republic. (1918-1939). 1933 AV 10 Dukatu. NGC MS67+. By J. Benda (Obv.) & O. Spaniel (Rev.). REPUBLIKA ČESKOSLOVENSKÁ. Czech lion with Slovak shield, denomination and date below /NEDEJ·ZAHYNOUTI·NÁM·I·BUDOUCÍM/ +929/ B-O·Š . Duke Wenceslas (Vaclav) on horseback right. KM 14; Friedberg 4; Schlum. 39.
1,780 pieces minted. Superb brilliant gem; the sole finest example at both NGC and PCGS as of September, 2020 (no others examples graded MS67). $75,000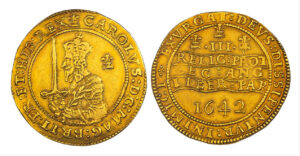 Charles I Triple Unite
1061935: Great Britain. England. Charles I. 1642 AV Triple Unite. NGC AU53. Oxford. 26.97gm. Crowned half-length figure of Charles I left in inner circle / Declaration in two wavy lines, plumes and III above, date below in inner circle. KM 232. Rare; SCBC-2724; Schneider 284; Brooker 830; North 2381.
The largest hammered gold coin type struck in England, produced in the early stages of the English Civil War of 1642-49. Attractive cabinet patina, an appealing example of this popular type. Ex-Spink Auction 14006, 22 September 2014 lot number 341. $115,000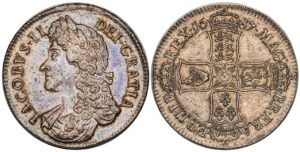 Choice James II Crown
1061473: Great Britain. England. James II. (King, 1685-1688). 1687-(1) AR Crown. NGC MS63. London. Edge: TERTIO. Laureate, draped bust, left / Crowned cruciform arms, garter-star at center. KM 463; SCBC-3407; Dav.-3779.
Attractive cabinet patina, excellent strike for the issue. $8,750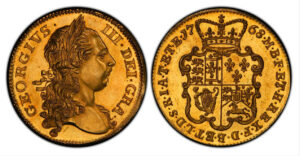 1768 Pattern Two Guineas, Ex-Slaney
1060685: Great Britain. George III. (King, 1760-1820). 1768 AV Pattern 2 Guineas. NGC PR63+. By J. S. Tanner. Edge: Plain. 16.55gm. GEORGIVS. III. DEI. GRATIA. Young laureate bust to right, long hair, lovelock over left shoulder / M.B.F.ET.H.REX.F.D.B.ET.L.D.S.R.I.A.T.ET.E. 1768. Crowned garnished shield with arms of England and Scotland (quartered), France, Ireland and Hanover, the latter with semeé of hearts. W&R 79 (R4).
Beautifully toned and significant cameo contrast. Ex Slaney Collection (Spink Auction 3024, 15 May 2003, lot number 1000 and purchased Baldwin 1945 for £95)) where described as "free of all surface marks, brilliant mint state, extremely rare thus". Price upon request.
Current and Upcoming Events
Atlas will be attending the following numismatic convention this Summer.
Please stop by our booth and say, Hello if you have a chance.
Whitman Winter Expo (Organizers are planning to reopen in November).
November 12-14, 2020
Baltimore Convention Center, Table #TBD
Baltimore, MD
Updates to the Atlas Numismatics online inventory are issued monthly. All issues from the fixed price list can be found here.
For more information and to sign up for the firm's monthly newsletter, visit the Atlas Numismatics website.