[bsa_pro_ad_space id=4]
Atlas Numismatics Publishes their Newest Fixed-Price List
Atlas Numismatics has updated their website with 271 new coins, medals, and tokens at fixed prices. Selections include the following items: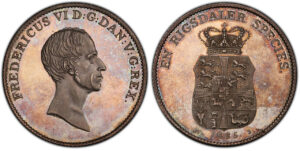 Specimen 1835 Speciedaler
1058456: Denmark. Frederik VI. 1835 IC//WS AR Speciedaler. PCGS SP64.Copenhagen. Head right / Crowned arms. KM 695.4; Dav.-73; Hede 26C. Deeply prooflike, very rare as a presentation or specimen striking. $6,750.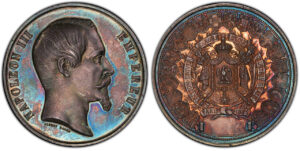 Universal Exposition Medal in Silver
1060074: France. Napoleon III. (Emperor, 1852-1870). 1855 AR Medal. PCGS SP63. By Albert Barre. Edge: Smooth with (hand pointing right) ARGENT. 60mm. 128.60gm. NAPOLEON III – EMPEREUR. Head, right; signed below truncation / • EXPOSITION • UNIVERSELLE • AGRICULTURE • PARIS 1855. Imperial coat-of-arms within wreath of olive and palm and surrounded by banner inscribed; around, national arms of participating foreign nations, each linked to the other and all to blank titulus in exergue. Divo 234; Collignon 1673. On the Exposition Universelle Agriculture, Paris 1855. $1,450.
Exceptional Augsburg Confirmation Medal
1032406: German States. Augsburg. ND (c.1850) AR Confirmation Medal. PCGS SP67. By Drentwett. 40mm. 22.66gm. GOTT IST ES, DER UNS GESALBT U. DAS PFAND DES GEISTES IN UNSERE HERZEN GEGEBEN HAT; 2.COR.1.22. Scene of a the Confirmation of a child / DURCH DIE AUFLEGUNG IHRER HÄNDE EMPFINGEN SIE DEN HEILIGEN GEIST. Dove and rays within eight-pointed star. Superbly toned. Includes original case. $595.
Charles II Pattern Broad, Ex-Eliasberg
1059761: Great Britain. England. Charles II. (King, 1660-1685). 1662 AV Pattern Broad (20 Shillings). PCGS AU53. By T. Simon. Laureate and draped bust, right / Crowned square topped shield. KM Pn32; SCBC-3337A; North 2780; Unlisted in Friedberg.
Lustrous and sharply struck, conservatively graded. Ex Eliasberg Collection where graded NGC AU55 (American Numismatic Rarities, April, 2005, Lot 372); Ex- Belden Roach Collection (B. Max Mehl, February 1944, Lot 1348). $16,500.
Superb George I Two Guineas
1059769: Great Britain: George I. (King, 1714-1727). 1726 AV Two Guineas. NGC MS63. GEORGIUS · D · G · M · BR · FR · ET · HIB · REX · F · D ·. Laureate head right / BRVN – ET · L · DVX – S · R · I · A · TH – ET · EL ·. Crowned shields in cruciform, sceptres at angles. KM 554; SCBC-3627. Superb prooflike original surfaces. Price upon request.
Exceedingly Rare Mule or Pattern Half-Sovereign
1059809: Great Britain. George IV. (King, 1820-1830). 1829/1823 AV Pattern or Mule Half-Sovereign. PCGS PR64 Cameo. 3.99gm. GEORGIUS IV DEI GRATIA * (date) *. Bare head, left; date below truncation 1829 / ANNO – 1823. Crowned shield of arms; thistle, Tudor rose and shamrock below. WR-253 (R7, 2 known). Obverse die from the 1829 sixpence. An incredible rarity, described as follows in the Terner catalogue: "A most unusual coin, and of special allure because no regular-dies 1829 half sovereign was ever struck! A great rarity, R7: only 2 known, the other impounded in the Royal Mint Collection! A choice coin with most pleasing surfaces and unblemished color." Ex Terner Collection (Ira & Larry Goldberg, May 2003, Lot 286). Price upon request.
Lovely 1839 Proof Sovereign
1059818: Great Britain. Victoria. (Queen, 1837-1901). 1839 AV Sovereign. PCGS PR64DCAM (Deep Cameo). Edge: Plain. VICTORIA DEI GRATIA. Head left / BRITANNIARUM REGINA FID: DEF:. Without die number. KM 736.1; SCBC-3852; WR-302. Struck in medal alignment. $29,500.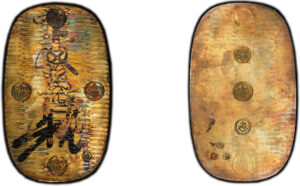 Japanese Oban with Original Calligraphic Ink
1058267: Japan. Man'en. (1860-1862). AV 10 Ryo Oban. PCGS MS61. Edo (Tokyo). 80mm x 134mm. 112.86gm. Crenulations with vertical calligraphic inscription in ink; four circular flower-stamps (or hanaoshi) composed of 5-3 pattern paulownia seals (丸に五三桐 or Maru ni go-san kiri) / Three stamps running down the middle with three smaller stamps to the lower left, (吉) (き) (宇). C 24a.2; JNDA 09-11; Fr.-7; Munro pl. 13/4. Hammered Coinage. Machine-made horizontal crenulations. Manen era. Nearly complete original calligraphic ink remaining. Includes JNDA Certifiction (No.57454). $35,500.
Updates to the Atlas Numismatics online inventory are issued monthly. All issues from the fixed price list can be found here.
For more information and to sign up for the firm's monthly newsletter, visit the Atlas Numismatics website.