[bsa_pro_ad_space id=4]
Atlas Numismatics Publish Their Newest Fixed-Price List
Atlas Numismatics have updated their website with 512 new coins, medals, and tokens at fixed prices. Selections include the following items: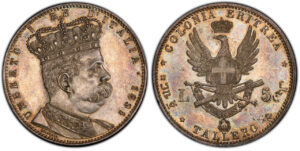 Attractive Eritrea Tallero
1058919: Eritrea. Umberto I. (King, 1878-1900). 1891 AR 5 Lire/Tallero. PCGS MS64+. UMBERTO I RE D'ITALIA. Crowned head right / Denomination. KM 4; Pagani 630. Colonial Coinage. Very rare type in this quality. $5,950.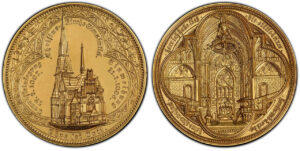 1886 Medal Celebrating the Inauguration of the Christuskirche (Christ Church) in Elmsbüttel
1058148: German States. Hamburg. 1886 Gilt AE Medal. PCGS SP66. By Joh. Otzen GRB & J.v.Langa. 84.68mm. 55gm. Church within quadrilobe / Interior showing altar within quadrilobe. Opitz 3566. On the inauguration of the Christuskirche (Christ Church) in Elmsbüttel. $695.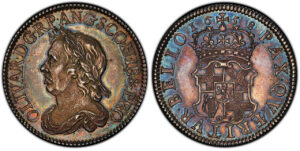 Appealing Cromwell Shilling
1058899: Great Britain. Oliver Cromwell. (Lord Protector of the Commonwealth of England, Scotland, and Ireland, 1653-1658). 1658 AR Shilling. PCGS MS63. Edge: Grained. 15.02gm. OLIVAR • D • GRP • ANG • SCO • HIB & PRO. Laureate draped bust left / PAX • QVÆRITVR • BELLO (date). Crowned shield. KM A207; SCBC-3228; ESC-254 (Prev. ESC-1005). $7,950.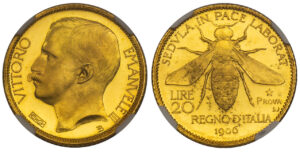 Exceedingly Rare 1906 Prova or Pattern 20 Lire
1059638: Italy. Vittorio Emanuele III. (Emperor, 1900-1943). 1906 AV Pattern 20 Lire. NGC PR66 Cameo. By Stabilimento Johnson, Milan. 21mm. 6.5gm. VITTORIO – EMANUELE III. Bare head, left; in the legends a Savoy knot inside a rectangle and the initials EB (Egidio Boninsegna) / SEDVLA IN PACE LABORAT// LIRE 20// PROVA/ SJ// REGNO D'ITALIA 1906. Bee with outstretched wings and legs. Pagani 176 (R4); Sim.-38; Mont.-93; Luppino PPSJ31.Superb and exceptional, exceedingly rare. Ex-Mario Ratto Auction, Milan October 21, 1961, Lot number 236 ("FDC, fondo specchio"). $44,500.
Beautifully Toned Caballito Peso
1059168: Mexico. 1913 AR Peso. PCGS MS65. Mexico City. National arms / Horse and rider facing left among sun rays. KM 453. Caballito. Superbly toned. $1,750.
Current and Upcoming Events
Atlas will be attending the following numismatic convention this sommer:
The 2020 Pittsburgh World's Fair of Money – Table #TBD
August 4-8, 2019
American Numismatic Association (ANA)
The David L. Lawrence Convention Center
1000 Fort Duquesne Blvd, Pittsburgh, PA 15222
For more information and to sign up for the firm's monthly newsletter, visit the website of Atlas Numismatics. Updates to their online inventory are issued monthly.