[bsa_pro_ad_space id=4]
Atlas Numismatics Publishes their Newest Fixed-Price List
Atlas Numismatics has updated their website with 378 new coins, medals, and tokens at fixed prices. Selections include the following items: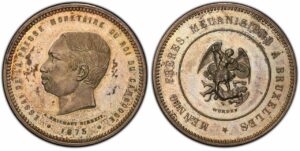 1875 Cambodia Pattern 5 Francs
No. 1063053: Cambodia. Norodom I (King, 1860-1904). Pattern 5 Francs, 1875. Brussels mint. PCGS SP63. By A. Brichaut (Direxit). Edge: Plain. ESSAI DE LA PRESSE MONETAIRE DU ROI DU CAMBODGE (date). Head of King Norodom I, left / MENNIG FRERES. MECANICIENS A BRUXELLES. Archangel Michael slaying the dragon; WURDEN signed below. KM X T2; Gadoury 10; Lecompte 95. – Struck by the Mennig brothers as a sample of their minting press's capabilities in an effort to sell minting equipment to Cambodia. Price: $13,500.
Napoleon III Medal Set
No. 1062457: France. Napoleon III. (Emperor, 1852-1870). Two Piece Medal Set, 1852, Paris. PCGS SP65. By Caque. Edge: (Hand) ARGENT and (Hand) CUIVRE. NAPOLEON III EMPEREUR. Bust, left; signed below trancation / Proclamation and date on five-lines within olive wreath; legend around and signed below. Divo 116. – Struck to commemorate the proclamation of the Empire at Paris city hall. Superb matched gem examples, very rare as such. Includes original case. Price: $5,950.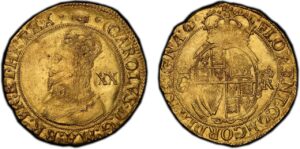 Mint State Charles I Unite
No. 1063015: Great Britain. Charles I. (King, 1625-1649. Unite (20 Shillings), 1636-38. PCGS MS62. Smaller bust with unjewelled crown, left, denomination XX behind portrait / Crowned oval arms divides crowned-C and crowned-R to either side. KM-153; SCBC-2692; Fr.-246; North-2153. Highly lustrous, rare in this quality. Price: $14,950.
Exceptional Queen Anne Two Guineas
No. 1063151: Great Britain. Anne. (1702-1714). Two Guineas, 1711. PCGS MS63. ANNA DEI – GRATIA. Bust left / MAG – BRI FR – ET HIB – REG. English and Scottish shield halved. KM 531; SCBC-3569. Fully prooflike and beautifully toned, superb and exceptional. Price: $95,000.
Attractive Great Britain Regimental Medal
No. 1063168: Great Britain. The 5th Regiment of Foot. Regimental Medal, c.1767. PCGS SP63. Edge: Plain. QUO FATA VOCANT. St. George slays the dragon / V/ REWARD/ OF 14 YEARS/ MILITARY MERIT/ – MARCH 10th 1767. Legend within wreath. – The 5th Regiment of Foot, Order of Merit, 1767-1856. Price: $249.
Large Format Churchill Medal
No. 1063147: Great Britain. Winston Churchill. (Prime Minister, 1940-1955). Memorial Medal, 1966. PCGS SP65. By Kovacs (Obv.); Low (Reverse design/illustration) and issued by Spink & Son. Edge: Plain with incuse stamp, SILVER. WINSTON CHURCHILL/ 1874-1965 (in exergue). Forward-facing portrait of Churchill / "VERY WELL ALONE" (in exergue). Triumphant soldier in ocean. – Struck to commemorate the life Sir Winston Leonard Spencer-Churchill, British politician, army officer, and writer. Includes original case. Price: $395.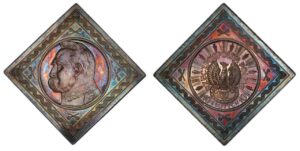 1934 Pattern or Proba 10 Zlotych
No. 1063596: Poland. Pattern or Proba 10 Zlotych, 1934. PCGS SP64. Warsaw. Edge: Reeded. Rifle Corps symbol below eagle with wings open / Head of Jozef Pilsudski left. KM Pn349; Parch.-P159 Klippe. Housed in an oversized holder. Price: $10,500.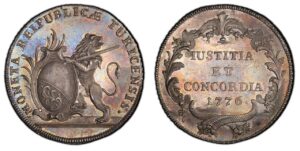 Gem 1776 Zürich Thaler
No. 1062523: Swiss Cantons. Zurich. Thaler, 1776. PCGS MS65. MONETA REIPUBLICÆ TURICENSIS. Oval arms of Zurich with palm branch at left, supported by rampant lion at right / IUSTITIA/ET/CONCORDIA, date above crossed cornucopias within ornate cartouche. KM 163; Dav.-1794; HMZ 21164. Attractively toned, prooflike surfaces (not noted by PCGS). Price: $6,500.
Choice Windward Islands 12 Sols
No. 1063061: Windward Islands. Louis XV (1715-1774). 12 Sols, 1731. PCGS MS63. By Joseph-Charles Röettiers. La Rochelle. Edge: Plain. LVD. XV. D. G. FR. ET NAV. REX. Young head of Louis XV, right / ISLES/ DU/ VENT/ (date). Three lis and flourish above date. C 2; Lecompte 4; Zay.-9. Price: $2,450.
Updates to their online inventory are issued monthly.
For more information and to sign up for the firm's monthly newsletter, visit the Atlas website.