[bsa_pro_ad_space id=4]
Atlas Numismatics Publish their Newest Fixed-Price List
Atlas Numismatics has updated their website with 274 new coins, medals, and tokens at fixed prices. Selections include the following items: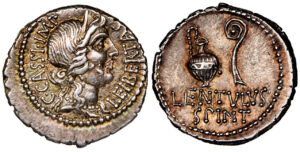 Appealing Cassius Denarius
1059603: Roman Republican. C. Cassius Longinus. Struck circa 42 BC. AR Denarius. NGC Ch. XF✭ (Choice Extremely Fine ✭) Strike 5/5 Surface 5/5. Smyrne. 3.84gm. C • CASSI • IMP – LEIBERTAS. Diadem head of Libertas, right; wearing earring and pearl necklace / LENTVLVS/ SPINT. Capis and Lituus; legend below. Crawford 500/3, Syd.-1307. Lovely cabinet patina; given the star designation for exceptional eye appeal. $2,950.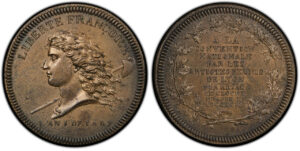 Liberté Françoise Medal
1059196: France. National Convention. (1792-1795). 1792 Bell Metal Medal. PCGS MS63. By André Galle. Lyon. 39mm. 39.49gm. LIBERTE FRANçOISE. Head of Liberty left with pike over far shoulder upon which rests a Phrygian cap / A LA/ CONVENTION/ NATIONALE/ PAR LES/ ARTISTES REUNIS/ DE LYON/ – PUR METAL DU CLOCHE/ FRAPPE EN/ MDCCXCII. Ten line inscription within oak wreath. Mazzard 318a; VG-338; Hennin 387. Inspired by the "Libertas Americana" Medal. This medal is Galle's first recorded piece. $3,950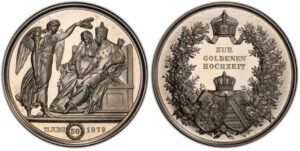 Golden Wedding Anniversary Medal of Wilhelm I and Augusta
1058094: German States. Prussia. Wilhelm I. (Kaiser, 1861-1888). 1879 AR Medal. PCGS SP66. By W. Kullrich and E. Weigand from the G. Loos workshop. Edge: Plain. 60.88mm. 89.85gm. The Emperor and Empress enthroned and seated facing left; before them stands a genius with a torch in his right hand, his left hand holding two wreaths over the heads of the royal couple / Inscription on three-lines within wreath; the Emperor's crown above and crowned shields of Prussia and Saxony below. A ribbon dated July 11 1829 to either side of the shields. Marienburg-6146; Sommer K-86 and W-33. Struck to commemorate the Golden (50th) Wedding Anniversary of Wilhelm I and Augusta on July 11th, 1879. Virtually flawless gem, extremely rare in this quality. $3,350.
Cromwell Pattern Broad
1059760: Great Britain. England. Commonwealth. 1656 AV Pattern Broad (20 Shillings). PCGS PR62+ Cameo. Dies by Simon. Blondeau's mint, Drury House, London. OLIVAR · D · G · R · P · ANG · SCO · HIB · &c PRO ·. Bust of Oliver Cromwell, left / PAX · QVÆRITVR · BELLO ·. Coat of arms below date. KM Pn25; SCBC-3225; Friedberg 273; North 2744; Schneider 367; W&R 39. Superb strike, deeply mirrored fields. $82,500.
1820 Pattern Half-Sovereign
1059792: Great Britain. George III. (King, 1760-1820). 1820 AV Pattern Half-Sovereign. PCGS PR64 Cameo. By Thomas Wyon and Pistrucci. Edge: Plain. 3.80gm. GEOR: III D: G: – BRITT: REX F: D:. Laureate head, right; date below / BRITANNIARUM REX FID: DEF:. Rose, thistle and shamrock on a single stem, crown above. W&R-206 (R5, 6-10 examples known); DM-138 (This coin).
A superb and artistic design. Lovely surfaces with deep mirrors. Described in Terner as follows: "Exceptionally well preserved. Superb Choice Proof with a moderate cameo. Classic orange-peel surfaces. A great pattern!" Ex Terner Collection (Ira & Larry Goldberg Coins & Collectibles Auction 20, 26 May 2003, Lot number 257) Ex Douglas-Morris and Pellegrino Collections. $39,500.
Current and Upcoming Events
Atlas will be attending the following numismatic convention this Fall.
The 2020 Pittsburgh World's Fair of Money– Table #TBD
August 4-8, 2020
American Numismatic Association (ANA)
The David L. Lawrence Convention Center
1000 Fort Duquesne Blvd, Pittsburgh, PA 15222
Updates to the online inventory are issued monthly.
For more information and to sign up for the firm's monthly newsletter, visit the Atlas Numismatics website.