[bsa_pro_ad_space id=4]
June 14, 2012 – On Sunday 15 April, the Large Trading Hall at the Frankfurt Stock Exchange was transformed into an artistic installation reflecting the theme 'Technology and Man'. Working with the light artist Ingo Bracke of Studio Kybra, Atelier Brückner developed a subtle choreography of light and sound that made it possible to experience the leading German share-trading location in a new way. From 6:00 p.m. until midnight, visitors could take a look into the illuminated hall without having to make an appointment in advance. Join us here in enjoying the wonderful photos of this event.
The Frankfurt Stock Exchange is presenting the 'Blue Night' at the start of the Luminale festival of light art. As in 2008 and 2010, the biennale of light culture is an occasion to explore the scenographic potential of the hall. Redesigned in 2008 by Stuttgart architects Atelier Brückner, the hall offers flexible illumination – depending on use. Blue as the CI colour of the stock exchange is integral to the architectural concept.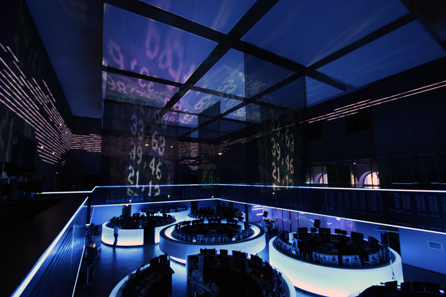 For the Luminale, the trading cabins – the workplace of over 50 specialists – are immersed in mystic blue; the DAX curve and individual prices that are displayed begin to hover in the space. They are projected onto fine gauze and permeate the space, thus overlaying a world map that encloses the room to create a permanent light installation. Its pulsating lines of light stand for technical impulses and the speed of trading processes – worldwide. Light and sound merge with the space to become an intensive experience.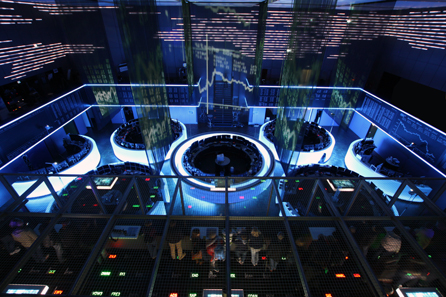 The slogan 'Technology and Man' refers to the reform of floor trading in Frankfurt in 2011. Since May of last year, the floor traders in Frankfurt are tied to the fully electronic Xetra trading system. In 'Xetra Frankfurt specialist trading', people and technology supplement each other perfectly.
The installation for the Blue Night translates the slogan into a media-based setting. The corporate scenography of the Frankfurt Stock Exchange is expressed in a narrative space.
Visit the site of Atelier Brückner. You will find many intriguing projects.
For example the Frankfurt Stock Exchange redesign by Atelier Brückner is presented here.
If you wish to experience the busy daily routine at the Frankfurt Stock Exchange, maybe you try first a visit of its website.
Further information on the Luminale are available on this website.