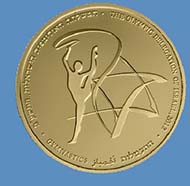 [bsa_pro_ad_space id=4]
March 3, 2011 – Israeli athletes have participated in the games of every Olympiad since those in Helsinki in 1952, the same year the Olympic Committee of Israel was admitted to the Olympic Movement. While the events of Munich in 1972 left an indelible mark on both Israel and the Olympics, since 1992 in Barcelona, Israel's impact has been of a different sort, as its athletes have brought home a total of seven medals, the highlight being Gal Friedman's gold medal for sailing in 2004.
The Israel Olympic Committee is the organization responsible for preparing and sending the nation's delegation to the event. In anticipation of the games of London in 2012, the goals are being set higher than ever before, as follows: To come home with Olympic Medals for the 6th consecutive time. To have an Israeli female athlete awarded a medal on the winners' platform. To win an Olympic medal in a sport, in which Israel has not yet won.
In gymnastics, which are divided primarily into rhythmic and artistic disciplines, Israel has a good chance of achieving these objectives. It is proud of the recent high performances of its gymnasts in international competitions, which have brought them into the world's foremost group of competitors. Alex Shatilov, Irina Risenzon and Neta Rivkin all placed in the top ten in their events at the Beijing 2008 Olympic Games and excelled, as well, as in the 2009 and 2010 European and World Championships.
Israel. 10 NIS – Mintage: 555 – 917 fine (22 kt) – Weight: 16.96 g – Diameter: 30 mm.
The new legal tender coin issued by the Bank of Israel and designed by David Harel captures the status of gymnastics as visually one of the most attractive of athletic disciplines, demanding strength, balance, coordination, flexibility, and grace. The coin depicts an impressive ribbon performance by a gymnast, with the ribbon flying in the air in the shape of a Star of David. The coin will join the world collection of coins of many nations, capturing the excitement of the games in London and exemplifying the Olympic Motto: "Faster, Higher, Stronger".
Israel. 2 NIS- Mintage: 5000 – 925 silver – Weight: 28.8 g – Diameter: 38.7 mm.
It is available in three versions, one of gold and two in silver. The 10 new sheqel (NIS) 917 fine (22 kt.) gold coin is 30 mm in diameter and weighs 16.96 grams. Its maximum mintage is limited to only 555 pieces. It is struck in mirror-like proof quality, so indicated by a "?" (Mem) mint mark. The silver coins are a 2 NIS Proof issue, a silver dollar sized 38.7 mm in diameter containing 28.8 grams of 925 (sterling) silver. It also has the "?" (Mem) mint mark and is limited to an issue of 5.000 coins. The 30mm sterling silver 1 NIS is in proof like quality with a Star of David mint mark. It weighs 28.8 grams and has an issue limit of 1.800 coins. This 1 NIS will be presented to each member of the Olympic Delegation next year.
If you want to know more about the Israel Coins and Medals Corp., please click here.
http://www.israelmint.com.
If you want to see Alexander Shatilov, click here.
If you want to see Irina Risenzon, click here.
And for seeing Neta Rivkin, click here.