[bsa_pro_ad_space id=4]
July 17, 2014 – The first two-euro commemorative coin of 2014 will pay tribute to author and artist Tove Jansson. Mint of Finland has minted silver commemorative coins for Tove Jansson (9 August 1914 – 27 June 2001) in 2014 and 2004.
Commemorative Tove Jansson coin, proof.
"It is a great honour that Tove has received two commemorative coins and now this special two-euro coin. This puts Tove Jansson's position as a respected and acknowledged artist and author beyond a shadow of a doubt. This is also indicated by the fact that she is being so diversely and widely celebrated during the Tove100 jubilee year," says Sophia Jansson, Tove Jansson's niece and the artistic director of Moomin Characters.
In August 2014, one hundred years will have passed from the birth of Tove Jansson. This anniversary is celebrated by Tove100 jubilee year events in Finland and abroad.
Jansson is one of the internationally best known Finnish authors. She is best remembered for her independent and stubborn Moomin characters with their complex and quite inimitable world view.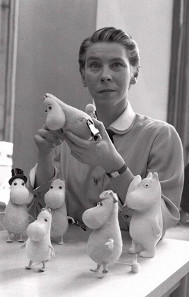 Artist and writer Tove Jansson in 1956./ Source: Wikicommons.
The two-euro commemorative coin will enter general circulation
The national side of this special euro coin is designed by Jari Lepistö after Tove Jansson's self-portrait. The commemorative coin's reverse is identical to that of ordinary two-euro circulation coins.
A total of 1.5 million two-euro Tove Jansson special coins will be struck, 11,000 of which will be minted in proof quality. Commemorative coins are legal tender in all euro countries. The commemorative coin can be obtained as change in regular circulation, or it can be purchased from the Mint of Finland online shop and from retailers.
"The first commemorative two-euro coin was minted in Finland in 2004. Due to their small mintages, these coins have become sought-after collector's items. The commemorative coins have achieved great popularity, and people of all ages collect them around the world. Some collectors consider it important to obtain the coin from circulation, but it is easier to purchase the special coin in polished proof quality from numismatic shops or the Mint of Finland online shop," says Mint of Finland CEO Paul Gustafsson.
Mint of Finland is offering the commemorative coins individually in proof quality (EUR 24), in purses of 10 freshly minted UNC-quality coins (EUR 41), and in rolls of 25 freshly minted UNC coins (EUR 90).
Each euro country is allowed to release two commemorative coins into circulation each year, and Finland plans to release the full quota of two Finnish two-euro commemorative coins in 2014.
Click here to visit the Mint of Finland online.
And, if you didn't know Tove Jansson before, do take a look at the artist and her beautiful works on this website!