[bsa_pro_ad_space id=4]
October 14th, 2010 – A museum for old shares and bonds? Museums have been established around the world on a wide range of subjects, such as trains, airplanes, cars, movies, coins, bank notes and stamps. Only the share, which facilitated the economic exploitation of discoveries and financed so many technical innovations, remained homeless up to the foundation of Wertpapierwelt.
In 1898, you hat to pay only 2 bucks to become shareholder of the Gold Coin Minting & Milling Co. / Montana.
This is somewhat surprising as securities are very widely known within our society. Stock prices are a daily topic of conversation. Many of us invest our savings in shares and bonds. Depending on whether their prices rise or drop, securities can trigger euphoria or depression. Everyone has heard about shares, but few have ever seen or touched a share certificate. What does a security actually look like? What do shares tell us about the history of a company, and what happens to them after the company's demise? Wertpapierwelt set about finding the answers to these questions.
The Vereenigde Oostindische Compagnie was the first stock corporation of modern economic history; here you see a bond from the year 1623.
Valueless shares and bonds – so-called non-valeurs – document the history of our economy. Ever since the Dutch founded the first public limited company in 1602, countless investors and speculators have won and lost fortunes. Today, the global economy would be unthinkable without the share as a financing instrument and motor. But the history of shares is also a part of the history of everyday life: a mirror of the culture and society of each epoch.
The Portuguese art nouveau artist Bordallo-Pinheiro created this sophisticated lithograph.
Designed by artists and signed by inventors, economic pioneers and politicians, historical securities can take you on a journey back in time. Visit the Wertpapierwelt museum and find out why an old security is much more than just waste paper.
We look forward to your seeing you!
In the middle of the 19th century farming changed fundamentally. More people had to be feeded, new forms of organization developed.
Unique Wertpapierwelt
As one of the most globally oriented financial centres in the world, Switzerland is a fitting home for the first international museum for historical securities. Wertpapierwelt is run by the "Foundation Collection of Historical Securities", which was founded by SIX Securities Services in 2002. The foundation is domiciled at Olten and is supervised by the Swiss Federal Supervisory Board for Foundations. Its purpose is to acquire, maintain and expand a historically and culturally significant collection of securities.

The Société du Grand Café de la Paix S. A. in Béziers wanted to benefit from the success of the better known Café de la Paix in Paris.
Wertpapierwelt regularly presents new topics from economic history. Since it opened its doors to the public on 10 July 2003 seven different exhibition have been realized. The museum offers guided tours for groups on request. Via two PC stations, visitors also have access to a database containing front and rear images of around 8,000 securities. A reader's corner, a small museum shop and a library complete the offering.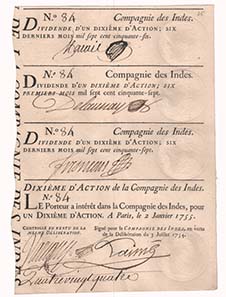 John Law and his Companie des Indes better known as Mississippi Company stand for the French financial scandal in 1720.
A living collection
In 2001, the SIX Securities Services acquired the most significant private collection of historical securities worldwide. Currently encompassing around 8,000 securities from over 150 countries, the collection documents global economic history from the inception of the public limited company to the present day – from the early 17th century, when resourceful merchants founded the Dutch East India Company, through to today's high-tech certificates with their sophisticated security features.

The collection's main areas of focus are:

Share of the "Royal Society St. Ferdinand" from the 18th cent.
Certificates of former public limited companies

In 1899 the Turin "Fiat" manufactured 24 cars.
Securities of special economic, technological or cultural historical interest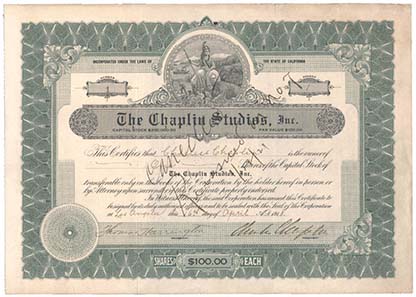 Share 1 of the "Chaplin Studios" was signed by Charlie Chaplin himself.
Shares and bonds bearing the original signatures of historical personalities
Paul Cauchie internationally known artist of art nouveau created this share.
Art on share certficates. This means typical examples of epochal styles designed by celebrated artists and illustrators, particularly decorative, artistic or technologically significant design
Share of the Walt Disney Company.
Shares of companies that have won international fame or acquired a symbolic status
A scandal made the Eidgenössische Bank founded in 1864 known all over the world. In 1869 a bookkeeper embezzled 3 Million Swiss Franks, which was an incredible amount in these days.
Securities from Switzerland
Of course, such a collection is never complete. Thanks to numerous donations and well-researched purchases, the collection is steadily growing without losing its high calibre.


The story of securities – for finance experts and laypeople alike
Would you like to understand the workings of the financial world then and now? Wertpapierwelt explores exciting links and shows you just how shares and bonds have helped shape our economy for the past 400 years. Wertpapierwelt has much to offer collectors, investors and nostalgics, as well as those with a general interest in history. The origins, effects and importance of the share and the public limited company are explained in simple terms. The museum harbours numerous stories and histories revolving around securities. By revealing the roots of our financial and economic system, Wertpapierwelt is also making a contribution to the investment culture of the Swiss financial centre.
The hopes connected with this "United States Treasury Saving Bonds" issued in 1960 are today history again.
Historical securities are given a "second life"
A heap of shredded paper. In most cases, this is all that remains of annulled securities. That is unfortunate – for many a security would have an interesting tale to tell, for instance, about its owner. These days investors seldom come to see a physical certificate – and this is not primarily due to the destruction of valueless securities. In fact, nowadays securities are rarely printed in the first place, while physical deliveries to investors were stopped a while back.
Thus physical shares and bonds are becoming increasingly rare. The aim of the "Foundation Collection of Historical Securities" is to preserve and study historical securities while making them accessible to all through the Wertpapierwelt museum. A lively and informative presentation to the world of securities.

Dagmar Schönig, curator of the museum Wertpapierwelt.
If you want to learn more about the Wertpapierwelt, click here.