[bsa_pro_ad_space id=4]
by Annika Backe
September 22, 2016 – Everyone interested in archaeology certainly knows Pompeii. Located roughly 23 kilometers away from present-day Naples, the small flourishing city in Campania was covered in ash and pumice when Mount Vesuvius erupted in AD 79. It is a treasure house of information for archaeologists who have found bones and gold coins in what was left of a shop, as the Soprintendenza Pompei made public.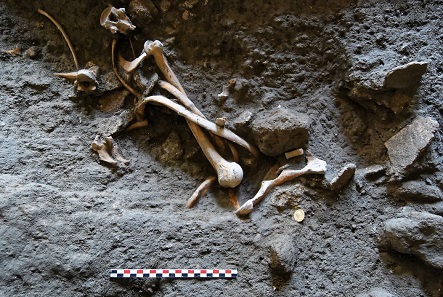 The excavators have discovered bones that once belonged to four skeletons as well as other finds. Photo: UFFICIO STAMPA Soprintendenza Pompei.
According to the Italian and French experts, the deceased were young people, including an adolescent girl. They probably looked for shelter in the back of the building. The layout of the bones reveals that the archaeologists were not the first ones to dig in this area.
The finds included gold coins such as this aureus of Titus. Photo: UFFICIO STAMPA Soprintendenza Pompei.
Apparently, looters have been searching for objects of value. Yet they didn't notice a gold leaf-foil necklace's pendant and some gold coins. Among these were an aureus of Titus. In the shop the archaeologists also discovered an oven which they believed might have served to produce bronze objects.
4th-century BC tomb of a male adult. Photo: UFFICIO STAMPA Soprintendenza Pompei.
The researchers made another fascinating discovery. They found the tomb of a man who had been given at least six funerary vases painted black. Dating to the 4th century BC, this is one of the rare testimonies of the Pompeii of the pre-Roman era.
Archaeological excavations in this and other areas of Pompeii, and in Herculaneum which was also buried in AD 79, continue.
Please find the website of the Soprintendenza Pompei here.
Further news from the Soprintendenza Pompei can also be found on Facebook or Twitter.
And the Soprintendenza has uploaded many movies about Pompeii on its YouTube channel.