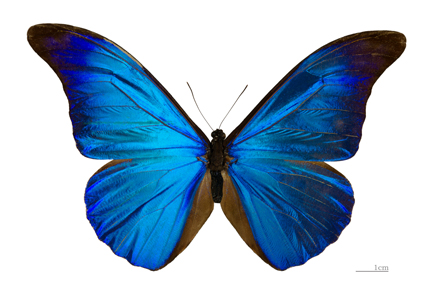 [bsa_pro_ad_space id=4]
July 16, 2013 – Engineers hope to produce money which cannot be counterfeited thanks to nanotechnology. The Canadian company NanoTech Security has develloped KolourOptics® which is inspired by the iridescent blue of the Morpho Butterfly.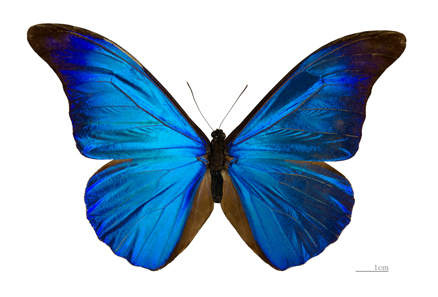 A Morpho butterfly. Photo: Didier Descouens / Wikipedia. Museum of Toulouse. CC 3.0.
As the company explains: 'The nanostructures that create the brilliant optical effect are based on but not exact replicas of structures found on the Morpho Butterfly's wings. The structures take advantage of a sub-wavelength (smaller than light) optical phenomena called surface plasmonics. Photons or light waves, interact with a nanostructured film, collecting on the films surface and creating higher than expected optical outputs by creating an electromagnetic field, called surface plasmonic resonance. These amazing structures are created using proprietary electron beam lithography and focused ion beam processes to pattern a large area master die. This die is then grown into a subsequently larger area that is used to imprint, like a nano-scale embossing process, on virtually any substrate including banknote grade polymers.'
While creating the master die is extremely difficult requiring a clean room and special instruments (and therefore may deter counterfeiters from imitating the products) multiplicating the master for mass production is very simple (and that would permit mints or banks to economically produce money on a large scale).
In June NanoTech Security has received a Technology Impact Award (TIA) for Most Promising Pre-Commercial Technology at the annual British Columbia Technology Industry Association awards ceremony. Currently the firm is seeking for partnership with the coin producing industry.
You can learn more about the company and its product here.
And there is a section that explains everything regarding KolourOptics®.
Watch some videos on how KolourOptics® works here.
You can read a detailed article in The Globe and Mail.