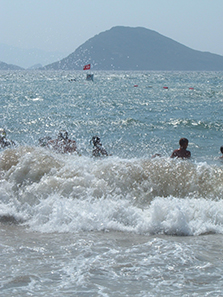 [bsa_pro_ad_space id=4]
by Ursula Kampmann
translated by Annika Backe
August 31, 2017 – On August 23, 2017, the BBC reported that a Briton from Southwick, West Sussex has become the latest victim of Turkish legislation to protect ancient goods. The 52-year-old taxi driver, who is said to be currently detained for questioning in Milas, is facing a three year jail sentence accused of smuggling historical artifacts.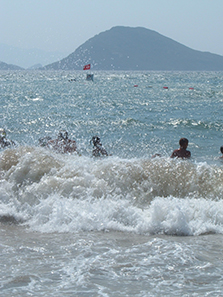 Bathing fun off Turgutreis Beach – but don't touch anything while snorkelling! Photo: Tomas Petrik. CC BY-SA 3.0.
The grounds on which he was remanded are: 12 coins – or 13 as other sources report. Information differs as to how the Briton actually got them. The Guardian relates that Robyns himself found them while snorkeling in the sea off Turgutreis Beach. According to the BBC, it was his sons who found the coins. Anyhow – instead of just leaving them, they picked them up as a souvenir. The father put the coins in his luggage, only to be stopped at the Bodrum airport security check and be arrested right away.
Sources did not specify the type of coins.
This is the very short BBC article, and this is the somewhat more detailed Guardian report.
The story of course also featured in The Sun.
Toby Robyns is not the first one to go to a Turkish prison over objects which are of absolutely no historical significance. After spending a long time in pretrial detention, a Swiss police commander was sentenced to one year and 15 days suspended prison time in 2013, for taking a roughly 20 centimeter long marble fragment with him in his luggage. Although having been finally sentenced, he was allowed to retain his position as police chief of the Swiss canton of Valais.
You can read more about this in the Swiss online journal The Local.
Two U.S. Americans, who, also in 2013, intended to "smuggle" a few dollars worth of old coins returned home with a delay of a mere 2 weeks, which American authorities call "almost at the speed of light".
You can read their story in a private coin blog.
Something very similar happened to a 30-year-old U.S. American tourist and his wife after collecting "beach stones".
Listed under "Specific legal provisions in criminal law", the German Federal Foreign Office has warned for years now:
The acquisition, possession and export of "cultural and natural goods" are also severely punished (with imprisonment up to 10 years), for they are regarded property of the state. In the case of infringements, several months' pretrial detention and high deposits (currently ca. €9,000,-) are common practice also for tourists, even if the items in question are antiques or old-looking objects of seemingly negligible value. In individual cases prison sentences are imposed. Therefore a strong warning is issued against acquiring items such as antiques, old coins, fossils, etc., from traders or taking them as a souvenir. The police and customs authorities broadly interpret the term "antiques". Every stone that was worked upon may belong to this category. As it is virtually impossible for travelers to recognize whether such an object, as an antique, is protected, travelers who are not authorized to do so by the Turkish authorities in charge should generally not try to export stones, coins, fossils and old-looking objects by transporting these in their luggage. However, in principle, an export permit can be obtained from the museums under the jurisdiction of the Turkish Ministry of Culture and some customs offices.
Apparently, this information has not yet reached every tourist.