[bsa_pro_ad_space id=4]
January 2, 2014 – The Musée Rath in Geneva displays until March 2, 2014 the exhibition 'Ancient heroes. Flemish tapestry and archaeology'. Monumental tapestries showed the ancient role models to the beholders in the 17th century. Today we learn much about this epoch when they were made.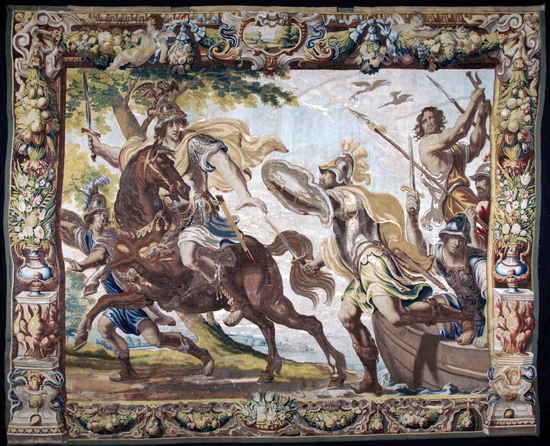 History of Marc Antony. Bruxelles, between 1661 and 1668. From the manufacture of Van Leefdael, van der Strecken and Peemans. © MAH. Photo: Manufacture royale De Wit, Malines. Inv. AD 1390.
This exhibition unveils monumental tapestries from the collections of the Museum of Art and History and the Toms Pauli Foundation in Lausanne.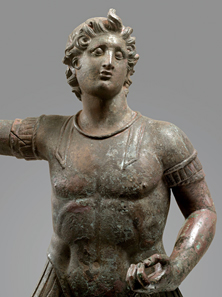 Equestrian statue of Alexander the Great. Hellenistic Period, 3rd and 2nd century. Bronze, H. 51.4cm. © Fondation Gandur pour l'Art, Geneva. Inv. ARCH-GR-049.
The subjects represented on them provide an insight into how the Baroque period regarded the great figures of antiquity, from Alexander the Great to Constantine.
The cross appears to Constantine, detail. Marque de la ville de Bruxelles. Signature IOERIS LEEMANS. © MAH. photo: Manufacture royale De Wit, Malines. Inv. 18675.
What did people know in the 17th century of these ancient heroes and their appearance? Constantine the Great, …
Vespasian and Titus are being acclaimed. Marques de la ville de Bruxelles. Signature G. PEEMANS. © Fondation Toms Pauli. Photo: Cédric Bregnard, Lausanne. Inv. 28.
… Roman emperors Vespasian and Titus who conquered Jerusalem …
Interpretation of Decius Mus's dream. Anvers. Workshop of Jacques Weuters. © MAH. Foto: Manufacture royale De Wit, Malines. Inv. 18668.
… Scipio who defeated Hannibal …
Constantine's victory over Maxentius at the Milvian Bridge. Marques de la ville de Bruxelles. Signature MATTHYS ROELANTS. © MAH. Photo: Manufacture royale De Wit, Malines. Inv. 18676.
… and many more famous protagonists of the ancient history appear on these tapestries. What message did they convey? Such questions open the doors to the fascinating world of the great models of political and military virtues that the century of Louis XIV sought in the Romans.
Traianus, bust with laurel, after Traianus' death, c.115-117 CE. Glass paste, 16 x 14mm. © Musée d'art et d'histoire, Geneva. Inv. CdN, MF 2967.
The presentation is complemented by prints, publications and medals, as well as a selection of hitherto unseen ancient pieces from the Gandur Foundation for Art and casts from the University of Geneva.
If you think about visiting the museum go to its website.