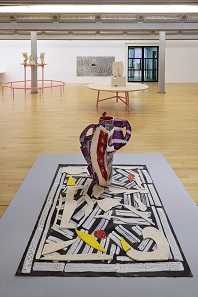 [bsa_pro_ad_space id=4]
September 29, 2016 – For the ninth edition of Liverpool Biennial, Tate Liverpool has turned its first floor galleries into Ancient Greece. After walking through a portal, visitors encounter classical sculptures from the collection of National Museums Liverpool, alongside newly commissioned artworks by Koenraad Dedobbeleer (Belgium), Jumana Manna (Palestine) and Betty Woodman (USA), among others. The artists imagine a world where ancient Greek and contemporary artists have collaborated: merging the past, present and future into a single fiction just like the city's architects did when they designed Liverpool's neoclassical buildings in the 1800s.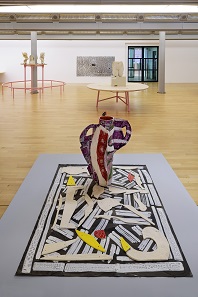 Betty Woodman's Aztec Vase and Carpet 1 2012 by Betty Woodman currently on display in Ancient Greece at Tate Liverpool as part of the ninth edition of Liverpool Biennial. © Tate Liverpool, Roger Sinek.
Casting Liverpool as a second version of Ancient Greece, the legendary cradle of democracy, architects such as John Foster and Harvey Lonsdale Elmes fashioned Liverpool's neoclassical cityscape. This allowed the rising elite of merchants who were involved in colonial trade and the Industrial Revolution to appropriate ancient Greek culture to – in part – validate their economic and political position.
Betty Woodman's The Summer House. © Tate Liverpool, Roger Sinek.
On display in the Walker Art Gallery is a watercolour and its study dated 1826 by Liverpool artist Samuel Austin that visualises this merging of worlds. Depicting the ancient city of Carthage, Austin uses Liverpool's neoclassical buildings as source material, with the portico of the Church of the School for the Blind, St Andrew's Presbyterian Church, the Infirmary and the gateway of the Necropolis – a site now replaced by Grant Gardens – acting as backdrops to the action. This collapsing and merging of space, time and stories mirrors the way that ancient Greeks imagined and depicted their myths. Hand-drawn images on a Grecian vase fold into each other to show multiple times, spaces and characters on a single plane, expressing the way in which the Gods exist simultaneously on earth and in the heavens, assuming multiple shapes and characters as circumstances required.
L-R Left Foot Wearing a Sandal from a Colossal Statue, Right Upper Arm and Forearm from a Statue and Relief Mask, Corner of a Sarcophagus. © Tate Liverpool, Roger Sinek.
For Liverpool Biennial 2016 worlds will collide again and visitors to Tate Liverpool will encounter sculptures, vases, busts and reliefs from National Museums Liverpool's antiquities collections. Many of the sculptures were originally collected by the Lancastrian antiquarian, Henry Blundell (1724-1810) and displayed at his house, Ince Blundell Hall, Sefton, Liverpool. While some items have been on display at World Museum until recently, others have not been on public display for more than 20 years. Many of these sculptures were subject to adaptation by famous Italian restorers before being sold to collectors such as Blundell. Restoring, adding features and generally reassembling sculptures from ancient and modern pieces was a popular and accepted practice in the 18th century world of collectors and artists. Restorations sometimes added different parts and attributes to the statues, sometimes resulting in the merging of different times and characters in one body.
L-R Sahej Raha's UNDERGOD 2016 and Saras 2012. © Tate Liverpool, Roger Sinek.
Alongside these figures and fragments sit newly commissioned artworks. Andreas Angelidakis's (Greece) new film considers the uses of Ancient Greek vases. Pottery was Ancient Greece's strongest export with pots being sold across the world and acting as a vessel for the dissemination of myth and news, akin to today's newsfeeds on social media. Koenraad Dedobbeleer will make a series of display structures to support the Ince Blundell sculptures in their new context. Jumana Manna's work draws parallels between Athens and Jerusalem to relate how their stories both contributed to the West's self-construction, which in turn mirrored and partially shaped the economy and politics of the Middle East. Betty Woodman's mural depicts a domestic scene, complete with three dimensional ceramic objects. Continuing the world of Ancient Greece outside Tate's walls, Woodman will also present an artwork in the form of a fountain which will be displayed in the city centre.
Statue of Apollo Sauroktonos 1st century. © Tate Liverpool, Roger Sinek.
The Ancient Greece episode at Tate Liverpool also features new and existing work by other artists including Alisa Baremboym (USA), Mariana Castillo Deball (Mexico), Céline Condorelli (Italy/Switzerland/France), Jason Dodge (USA), Lara Favaretto (Italy), Ramin Haerizadeh, Rokni Haerizadeh and Hesam Rahmaninan (Iran), Lawrence Abu Hamdan (Jordan/UK/Lebanon), Samson Kambalu (Malawi), Rita McBride (USA) and Sahej Rahal (India). Liverpool Biennial 2016, a free festival of newly commissioned contemporary art from around the world, takes place across the city's galleries, unused buildings, public spaces and online until 16 October. It is organised as a story narrated in several episodes: fictional worlds that draw from Liverpool's past, present and future.
L-R Statuette of Tyche 1st Century AD, Archaistic Statuette of Athena 1st Century AD and Statue of Dionysos. © Tate Liverpool, Roger Sinek.
The display is on during Tate Liverpool's summer season which features exhibitions of work by Francis Bacon, Maria Lassnig and Ella Kruglyanskaya.
To learn more about the exhibition go to the Tate Liverpool website.
The Liverpool Biennial 2016 has its own website where you can find all information on the events and exhibitions.